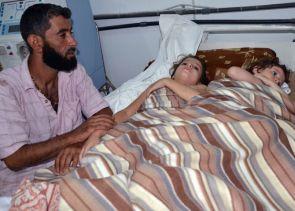 US President Barack Obama and British Prime Minister David Cameroon have jointly warned Syria that it would face a "serious response" if it is found that Syrian forces used chemical weapons on civilians.
Obama and Cameron spoke on the telephone for 40 minutes and both leaders were "gravely concerned" by the "increasing signs that this was a[n]... attack carried out by the Syrian regime", the British Prime Minister's office said.
"The UN Security Council has called for immediate access for UN investigators on the ground in Damascus," Downing Street said in a statement. "The fact that President Assad has failed to co-operate with the UN suggests that the regime has something to hide." It said Cameron and Obama had "reiterated that significant use of chemical weapons would merit a serious response from the international community and both have tasked officials to examine all the options".
The statement said the two men had agreed it was "vital that the world upholds the prohibition on the use of chemical weapons and deters further outrages". They would keep in "close contact", it added. Syrian opposition activists accuse forces supporting President Bashar al-Assad of killing between 500 and more than 1,000 civilians in several suburbs east and west of capital in the early hours of August 21.
The Syrian government has denied any use of chemical weapons, blaming rebel fighters instead. Meanwhile, Obama earlier convened his National Security Council to discuss options on Syria. US Defence Secretary Chuck Hagel said the American military, which is repositioning naval forces in the Mediterranean, was ready to act.
Meanwhile, the American naval forces continued to move closer to Syria, as the Obama Administration, considered its options on possible military intervention. US Secretary of State John Kerry also reached out to his counterparts in the region and across the globe.
Hagel said that the Obama administration is still assessing intelligence information about the deadly attack. "When we have more information, that answer will become clear," he said in Kuala Lumpur when asked when will the US take military action against Syria.
"There are risks and consequences for any option that would be used or not used - for action or inaction," he told reporters. "You have to come to the central point of what would be the objective if you are to pursue an action or not pursue an action. So all those assessments are being made," Hagel said.
Image: A man sits in a hospital near two children who activists say were affected by nerve gas in the Ghouta region, in the Duma neighbourhood of Damascus
Photographs: Bassam Khabieh/Reuters