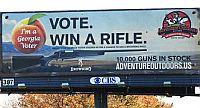 A sporting goods store in the United States is giving a chance to win a rifle or handgun on the condition of voting in the presidential elections on November 6.
 
'Want a chance to win a rifle or handgun? Go vote in the US presidential elections'" that's the message the sporting goods store in Atlanta is spreading.
 
Eight billboards for Adventure Outdoors urged people to bring in their 'I voted' sticker to enter a raffle for a Glock handgun or Browning rifle.
 
"Getting people involved is what it's all about," Wallace said, adding: "I would encourage other businesses to do the same thing."
 
According to stuff.co.nz/ap, the promotion drew a complaint from a state senator who said it may break the law, and the Secretary of State's office assigned an investigator to look into the raffle.
 
Georgia law prohibits anyone from giving or receiving money or gifts in exchange for voting, and felony charges could be brought if the law were broken, Secretary of State Brian Kemp said in a statement.
 
"No action will be taken as long as Wallace allows anyone to enter the contest", Jared Thomas, a spokesman for the Secretary Of State's office, said.
 
"Should they violate what they told our office they would do, then that will be taken into account and actions will be taken accordingly," Thomas added.
 
According to the report, Democratic State Senator Vincent Fort of Atlanta filed the initial complaint, saying businesses are not even allowed under the law to offer free food or drinks to voters.
 
"Now that that they''ve expanded it and allow all customers to participate, I think it''s a legal raffle," Fort said, adding: "I don''t have any objections to it if it complies with the law."
 
"Reaction to the raffle has been 'almost 100 per cent positive'", Wallace said.
 
"We received some almost slanderous emails," he said, adding: "I would say they''re on the side of not liking guns, to put it mildly."