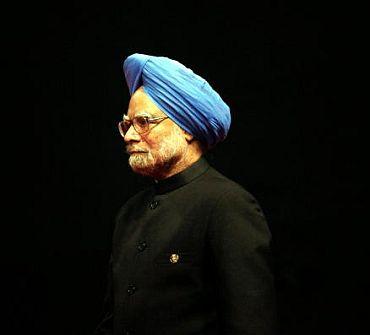 A United States court has asked a Sikh rights group to serve summons on Prime Minister Manmohan Singh by June 18 or face dismissal of a case of alleged human rights violations against him.
The summons against Dr Singh was issued by a federal judge in WashingtonDC last year on the charges of "funding several counter insurgency operations in the state of Punjab during the 1990s resulting in more than hundred thousand Sikhs being tortured and extra judicially killed by the security forces".
The case was filed by the New York-based Sikhs for Justice.
In its April 18th order, the District Judge James E Boasberg states that "Plaintiffs shall file proof of service on or before June 18, 2014".
Failure to file proof of service as per court order will result in the dismissal of the lawsuit against Singh, it said.
The SFJ in a statement said that it would now employ "alternate means" to accomplish the service of outstanding US court summons on the Prime Minister.
"To comply with the US Court orders, we will use alternate means of service including but not limited to 'service by publication', 'email' or 'social media' as provided under Washington DC Rules of Service', said attorney Gurpatwant Singh Pannun, legal advisor to SFJ.
SFJ said Section 4(f) (3) of the DC Superior Court Rules of Civil Procedure provides that service of summons may be accomplished "by other means not prohibited by international agreement as may be directed by the Court".
In another human rights violation case against Sri Lankan President Mahinda Rajapaksa, the WashingtonDC court allowed service of summons through publication.
Rajapaksa was accused of gross human rights violations and war crimes against minority Tamil population of the country.