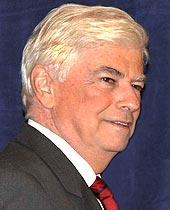 Top US Senator Christopher Dodd would travel to India next month as part of his effort to give a new thrust to Indo-US relationship, before the November visit of President Barack Obama.
Dodd, who is Co-Chair of the Senate India Caucus is scheduled to travel to India early July. He is likely to meet Prime Minister Manmohan Singh, along with other top Indian officials, besides eminent political leaders.
Dodd, who helped secure the passage of the Indo-US civilian nuclear co-operation agreement in a letter to the prime minister said, he is looking forward to his upcoming visit to New Delhi, Mumbai an Jaipur."I plan to continue working to advance the cause of friendship between our two nations and our two peoples, and I hope to further these goals during my trip," Dodd said in a communication to the prime minister ahead of his visit.
Welcoming his visit to India in the run up to President Obama's November visit, Indian American Democrats chairman Sant Singh Chatwal said this reflects Dodd's commitment to deepen and strengthen Indo-US ties. The visit of the Senator comes in the aftermath of the first-ever Cabinet level Indo-US Strategic Dialogue held in Washington early this month. The Dialogue was co-chaired by External Affairs Minister S M Krishna and US Secretary of State Hillary Clinton.
This week, top officials from both the countries attended the Indo-US CEOs Forum meeting. Finance Minister Pranab Mukherjee, along with the Commerce and Industry Minister Anand Sharma, Deputy Chairman of Planning Commission Montek Singh Ahluwalia, represented the Indian government at the meeting.
The US side included Clinton and several other top level officials from the Obama Administration. Recently Dodd had received the "Friend of India" award. "India is a trusted friend to America and an important ally in addressing the global challenges that both our countries face," he said, adding that he has been proud to play a role in developing the relationship between the two countries.
"I'm looking forward to continuing my work on strengthening US-India relations in the Senate India Caucus during my last months in the Senate-and beyond," Dodd said.

Image:  Senator Chris Dodd | Photograph: Snaps India