France were handed a shock victory in the men's 4x100 metres medley relay when gold-medal favourites United States were disqualified at the world championships in Barcelona on Sunday.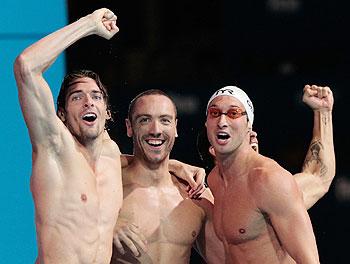 The Americans touched first in three minutes 30.06 seconds before the stadium announcer said they had been disqualified "for an early exchange".
France clocked a time of 3:31.51 to take gold, with Australia winning silver in 3:31.64 and Japan bronze in 3:32.26.
The Americans were denied what would have been a 12th triumph in the event in 15 championships since the inaugural edition in Belgrade in 1973.
Photograph: Adam Pretty/Getty Images