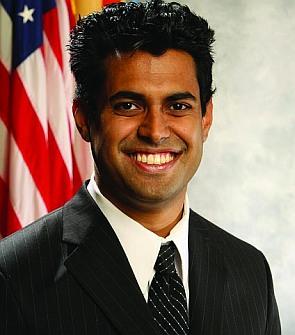 Vin Gopal, chairman, Monmouth County Democrats, was last week named deputy vice chair of the New Jersey Democratic State Committee by its chairman, John Currie.
He is one of the four people promoted to the influential position.

The committee will advise Chairman Currie and Vice Chair Lizette Delgado-Polanco on a range of party affairs and serve as emissaries at regional events.
'I am thrilled to name these four outstanding New Jersey Democrats as deputy vice chairs,' Currie said. 'I will look to them for guidance and support as the campaign season progresses. These individuals represent diverse interests and regions and they have all been leaders in their respective communities.'
Gopal is also running for a second term as Monmouth County Democrats chair.
"A county chairman runs the political party, recruits and run candidates for council, mayor, county offices and legislative offices," he told rediff.com.

"He determines how funds get spent on political campaigns, etc. The past chairman, Victor Scudiery, served the post for 23 years."
Gopal, 28, who was first elected to the post in 2012, is uncontested this time. The election was scheduled for June 10.
"There are about 900 members made up of elected Democratic leaders, mayors and council members in the county. I am uncontested toward a second term after winning my first term two years ago with 73 percent of the vote," he said. "I am not planning on higher office right now, but am focused on electing good government Democrats throughout the county."
Born in Neptune, New Jersey, Gopal is the son of Krishnan and Indu Gopal, both physicians who live in MonmouthCounty and work locally.
He grew up in Freehold, where he served as a volunteer emergency medical technician during high school and college. He also served as a certified American Red Cross Instructor.
He went to high school in TintonFalls and earned his Bachelor of Arts Degree from PennStateUniversity.
Gopal owns and operates several small businesses throughout MonmouthCounty, including community newspapers and magazines.

He was elected to a three-year-term as president of the Hazlet Business Owners Association in January of 2010
In 2011, Gopal contested unsuccessfully for the New Jersey state assembly.