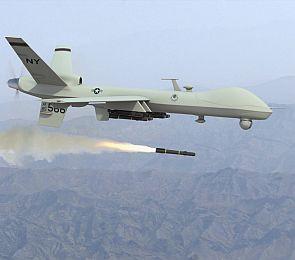 An American Central Intelligence Agency-operated drone targeted a residential compound and a vehicle in northwest Pakistan's restive tribal region close to the Afghan border, killing at least 18 suspected terrorists, officials said on Wednesday.
The drone fired four missiles targeting the compound and the vehicle in Danday Darpakhel area in North Waziristan tribal region's Miranshah on Tuesday night
"So far the reports show that around 18 people have been killed in the incident," a security official.
The identity of those killed was immediately not known but the terrorists linked with Al Qaeda are active in the area.
This was the second drone attack in two months.

Last month, seven terrorists were killed and three injured when a drone strike targeted a compound in Mangroti village, in the Shawal tehsil of North Waziristan.
Pakistan opposes the drone attacks, saying civilians are killed in the strikes, but US maintains it target terrorists.
The fresh strike may create tension between the US and the government of Prime Minister Nawaz Sharif, who promised in his election campaign to stop the unilateral drone attacks.