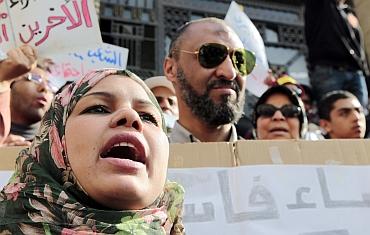 The United States has cancelled the International Women of Courage Award to the Egyptian activist Samira Ibrahim after coming to know that she had in the past praised the 9/11 attack.
The embarrassing cancellation of the award was announced on Friday by the state department only a few hours before she was to be honoured by the First Lady, Michelle Obama and the secretary of state, John Kerry, along with nine others.
"The department has decided not to present her with the award," the state department spokesperson, Victoria Nuland, told reporters at her daily press conference. Without explaining the reasons for it, she said the US did not consider some of her public statements as 'appropriate' and those compromised with its values.
"Upon review, we have concluded that we will not give her this award," Nuland said, adding that there were obviously some problems in the review process and the issues are under investigation.
Ibrahim 'refused to apologise' for her such tweets, writing on Twitter that the 'Zionist lobby in America' is to blame. According to the Egyptian blogger @SciencePyramid, Ibrahim posted -- and promptly deleted -- a 9/11 anniversary message saying 'America should burn'.
In August 2012, Ibrahim posted a quote she attributes to Adolf Hitler: "I have discovered with the passage of days, that no act contrary to morality, no crime against society, takes place, except with the Jews having a hand in it".
A day earlier, the state department spokesperson had said that the activist was initially selected for the award because of the 'incredible bravery and courage' she displayed at the time of the Tahrir Square protests.
"As you may recall, she was detained, she was subject to real police violence. Not only did she speak out about that, but she also became a real leader in her country in trying to address gender-based violence and other human rights abuses. So it was on that basis that she was initially selected, but obviously, these comments need to be looked into and we need some time," Nuland said.