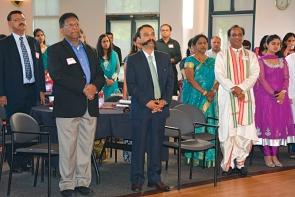 At the annual Bihar Diwas celebrations hosted by the Bihar Foundation West Coast in Cupertino, California on May 3, the Sankara Eye Foundation, a United States-based non-profit organisation, whose aim is to eradicate curable blindness in India by 2020, announced that it will set up a hospital in the eastern Indian state. Ritu Jha reports
Founded in 2009, the Bihar Foundation West Coast is a chapter of the Bihar Foundation run by the Bihar state government.
"There's a lack of eye care facilities in Bihar, so we are partnering with the Sankara Eye Foundation," explained Rajiv Sinha, vice chairman, Bihar Foundation West Coast. "The project is in an early stage, and we have started our search for land for the hospital. It is going to be a big project, and will require $4 million-$5 million to set up."
Sinha said that about 300 people attended the Bihar Diwas, and pledged $5,000 for the hospital. "We wanted to create awareness about the project in the community and people were very excited about it after the presentation," Sinha said.
The Foundation runs eight hospitals. The ninth one will open in September in Kanpur, Uttar Pradesh, and another hospital in Rajasthan is also in the pipeline.
"Sankara USA's responsibility is to raise $4 million for each project," said Murali Krishnamurthy, founder, executive chairman, Sankara Eye Foundation.
If the Bihar government helps them in getting the land, and if the Bihar Foundation West Coast can raise around $2 million, the hospital would be built before the one in Rajasthan, Krishnamurthy added.
It is difficult to get land in India, and costs have also gone up for labour and building materials, he said. "We have come up with a dual hospital model," Krishnamurthy explained, "Where the city hospital would be in the heart of the city and will cater to the paid patients. The community hospital will be close to the city and will do free eye surgeries. Together, the hospitals will become self-sufficient in five years. We have to compete with other paid hospitals which are coming up aggressively in the country."
Image: A snapshot from the gala