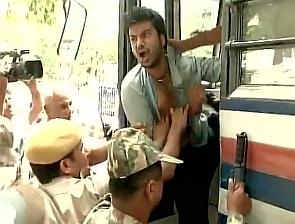 Scores of National Students' Union Of India activists on Saturday staged a protest outside the residence of Union Home Minister Rajnath Singh, demanding scrapping of Civil Services Aptitude Test. They also shouted slogans against the alleged police action against civil services aspirants who were holding a demonstration on Wednesday evening in Nehru Vihar area of north Delhi.
The protesters led by NSUI's General Secretary Mohit Sharma gathered around 9.30 am outside the minister's house and raised slogans against the Union Public Service Commission and Bharatiya Janata Party-led central government.
"Hundreds of students were severely injured in the protests and many were taken in custody. We immediately demand the release of the students and
strict action against the erring police officials," Amrish Ranjan Pandey, national spokesperson of NSUI, said.
Pandey said that the NSUI condemned the use of force against the "innocent protesters".
"Students have been protesting for over 25 days, but the government is doing nothing. For the welfare of students, UPSC should immediately scrap CSAT," he added.
As a large number of protesters started gathering, the police erected barricades outside the residence of the Union minister.
The police also detained some protesters and took them to Parliament Street police station. The students have been demanding that the pattern of CSAT be changed to give level-playing field to those coming from rural areas.
There are two compulsory papers of 200 marks each in the preliminary examination. These papers are also known as CSAT I and CSAT II.
The CSAT-II paper carries questions on comprehension, interpersonal skills including communication skills, logical reasoning and analytical ability, decision-making and problem-solving, general mental ability, basic numeracy, and English language comprehension skills (of Std X level).
Students have been objecting to the level of aptitude and English language questions being asked in the examination claiming they are much above the standard prescribed for the examination.
The civil services examination is conducted by the UPSC in three stages --preliminary, main, and interview -- to choose candidates for the Indian Administrative Service, Indian Foreign Service and Indian Police Service among others.

Image: Delhi police detain a protester outside Home Minister Rajnath Singh's residence. Photograph: ANI/Twitter