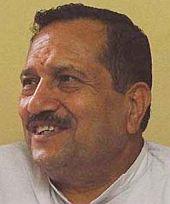 Rashtriya Swayamsevak Sangha leader Indresh Kumar on Monday accused the Congress-led UPA government of pursuing communal agenda and using government agencies like the National Investigating Agency to malign nationalist forces.
"It is at the behest of those sitting at the highest posts in Congress that the NIA has given a clean chit to Pakistani terror groups in this case (Samjhauta Express blast)," Kumar told a RSS gathering in Sirsa.
"Lashkar's Ilyas Kashmiri was named as a key conspirator in the blasts and several other persons were also arrested. Suddenly, the direction of the investigations changed and the country must be informed what exactly made this abrupt change," he said.
The RSS leader was quizzed by the Central Bureau of Investigation last December in connection with the Mecca Masjid blasts.
However the NIA, which took over the probe into the Samjhauta, Ajmer and Mecca Masjid blast cases later, has not questioned Kumar so far.
The NIA has named Kumar in the charge sheets of all cases, but not as an accused.
"The top Congress leadership owes several answers to the nation for its undemocratic, unconstitutional and anti-Hindu stance on various issues," he said.
He also criticised the Congress top brass for the police action on the anti-corruption protesters while they were sleeping in Ramlila Maidan at the national capital.
NIA is not making all its findings public and that makes one believe that it had something to hide and cover, the RSS leader claimed.
Image: Indresh Kumar