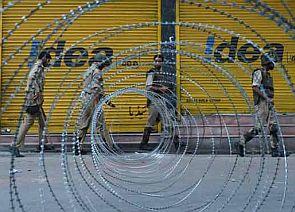 As the fresh communal violence in Muzaffarnagar tested the Akhilesh Yadav government again, the Uttar Pradesh police chief on Thursday admitted to lapses on the part of police even as paramilitary forces patrolled sensitive areas.
Eight persons have been arrested and cases registered against 15 people in connection with Wednesday's violence in Budhana area of Muzaffarnagar in which three men were killed. A woman was also killed and her husband injured when some unidentified people attacked them in Thugana area but police said it was not known if there was a communal angle to it.
Chief Minister Akhilesh Yadav, who came under all round attack on his government's handling of the previous bout of communal violence in Muzaffarnagar in September that killed 62 people, said those responsible will be brought to justice and that law will take its own course. "No one is above law," he told reporters in Kannauj.
UP Director General of Police Devraj Nagar has rushed to Muzaffarnagar and is camping there to avert a repeat of escalation in communal violence. The situation is reported to be tense but under control. "The kind of incident which happened yesterday can definitely be attributed to lapses on part of the police due to which some people dared to do this (violence). We will take strong action," he told reporters here.
With the fresh outbreak of violence posing a new challenge to the ruling Samajwadi Party, its supremo Mulayam Singh Yadav said the government was trying to normalise the situation through talks.
Stating that whatever happened in Muzaffarnagar was not riots, Yadav said it was the handiwork of some communal forces. He told party workers in Lucknow that the power of the government was "supreme" and that it would "crush" those forces vitiating the atmosphere if they went beyond control.
Cases have been registered against 15 persons at the Budana police station, Senior Superintendent of Police, Muzaffarnagar, H M Singh said.
Security was beefed up in the entire district where tensions ran high, officials said.
District Magistrate Kaushal Raj had said on Wednesday that three persons were beaten to death while another was injured in clashes between members of two communities at Muhammadpurraisingh village.
The Bharatiya Janata Party lashed out at the UP government over the fresh communal violence, saying it would not have happened had the authorities taken severe and unbiased action against those responsible for last month's riots. "If just and fair action was taken, then the violence would not have been repeated. UP government should understand this," BJP President Rajnath Singh told.