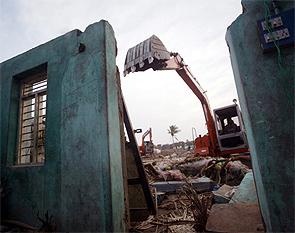 The Uttar Pradesh government deployed bulldozers to demolish a relief camp housing the victims of Muzaffarnagar riots in Loi village on Friday evening.
The move came in the wake of Samajwadi Party supremo Mulayam Singh Yadav's declaration: "There are no riot victims in the relief camps in Muzaffarnagar or Shamli ".
The sudden arrival of bulldozers sent shock waves among riot victims who were still trying to wind up their day's chores.
The sub-divisional magistrate accompanying the bulldozers urged the camp inmates to move to the nearby plots they had purchased with the Rs 5 lakh shelled out to them as compensation by the Akhilesh Yadav-led state government.
According to media reports, the helpless men, women and children in the camp were left with no option but to gather their belongings and rush out of the tents.
Local officials helped in moving out the 17 families in the Loni camp, said the reports.
Meanwhile, Chief Secretary Jawed Usmani announced in Lucknow, "We are shifting those living in the relief camps to empty government houses and buildings in order to save them from the winter chill".
But the riot-hit inhabitants of Loi had a different story to tell. None of them, they claimed, had been offered shelter in any government building.
"We have to fend for ourselves to ensure protection from the cold, which would be worse now that we have been forced to live under the open sky," a media report quoted one of the victims as saying.
The already controversial issue of rehabilitation of Muzzafarnagar riot victims was recently made worse by UP's Principal Home Secretary Anil Kumar Gupta who, while refuting reports about deaths of children in the relief camps, said, "If cold could kill people, then people would not be living in Siberia".
The remark caused much embarrassment to Akhilesh who later commented, "Bureaucrats must have control over their tongues."
Insiders claim that the top government official was only trying to endorse what the ruling party supremo had asserted 48 hours earlier.
While addressing party workers at the state headquarters, Mulayam had insisted, "There are no riot victims in the relief camps anymore. They are conspirators planted there by the Congress and the BJP. Tell them to go. We have paid them more compensation than anyone has ever given to any riot victim in any part of the country. Now, if those who are still hanging around there want something more, I will tell Akhilesh to give them that .But tell them to move out."
Gupta's remark was an extension of Mulayam's view, which was in contradiction to the statements made by both the chief minister and the chief secretary.
Image used for representational purpose only