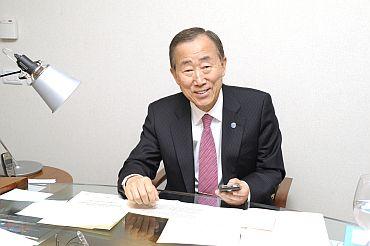 The powerful United Nations Security Council on riday approved a second five-year term for Secretary-General Ban Ki-moon, ahead of the voting by the 192-member General Assembly next week.
In a closed door session, the 15-member council voted by acclamation for 67-year old Ban's second term from 2012-2016.
The General Assembly will vote on his appointment on Tuesday, which is the final step to his appointment.
There are no contenders against the former South Korean foreign minister.
Ban had earlier secured the key support of the five veto-wielding members of the council -- the United States, China, Russia, France and Britain.
Ban, who succeeded Kofi Annan in 2007 as the eighth secretary-general of the UN, officially announced his intention to stay for another term only last week though it was widely known that he would seek a second term.
An Indian diplomat told PTI that on the India's recommendation all the council members took a group photo after approving Ban's second term.
Image: UN Secretary-General Ban Ki-moon reacts in his hotel room in Brasilia on Friday, just as he hears the news that the UNSC has voted to recommend him as a candidate for another term as secretary-general.
Photograph: Handout/Reuters