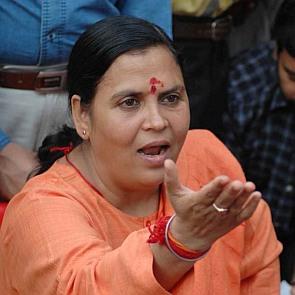 Reacting sharply to Congress leader Ajay Maken's comments on Human Resource Development minister Smriti Irani's educational qualifications, senior Cabinet colleague Uma Bharti on Wednesday targeted Congress president Sonia Gandhi.
Talking to media persons, Uma said: "I want to ask Madam Sonia Gandhi, what is her qualification? Because she was heading the UPA government, she was giving directions to the government. I want to see her certificate, see how qualified she is. Then the Congress people have the right to ask about the qualifications of Smriti Irani."
The Water Resources minister further said, "Sonia Gandhi should tell her MPs not to make such statements."

Bharti said she was "extremely hurt" by the qualification remarks of Congress.
"I was extremely hurt... I was suffering from fever yesterday. So, I read newspaper today and I saw that," the minister stated.
The controversy over the allocation of the Human Resource Development Ministry to Smriti Irani refuses to die down.
Congress leader Ajay Maken had on Tuesday tweeted, "What a Cabinet of Modi? HRD Minister (Looking after Education) Smriti Irani is not even a graduate! Look at her affidavit at ECI site pg 11."
Maken's comment had triggered outrage across Twitter, with many calling his stance 'sexist' and 'elitist'.