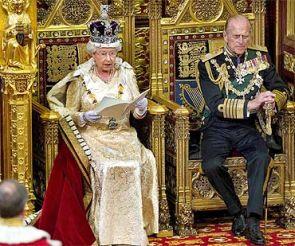 British monarch Queen Elizabeth II's husband Prince Philip underwent an exploratory operation on his abdomen on Friday and was "progressing satisfactorily" after the surgery.
"The Duke of Edinburgh has had an exploratory operation following abdominal investigations," BuckinghamPalace said in a brief statement.
The Queen's husband, who will be 92 on Monday, was admitted to the London Clinic on Harley Street and is expected to stay in hospital for about two weeks.
The Palace officials said the results from the surgery would now be analysed.
According to the Palace, the Duke of Edinburgh was admitted to The London Clinic last night shortly after he attended a palace garden party yesterday afternoon.
"His Royal Highness, the Duke of Edinburgh, has been admitted to the London Clinic for an exploratory operation following abdominal investigations. He is expected to stay in hospital for up to two weeks. Further updates will be issued when appropriate," a palace spokesperson had said.
A spokesperson at the clinic had described the Duke as being in good spirits.
Philip was said to be "comfortable" and the treatment went "as planned", the BBC reported.
BuckinghamPalace said yesterday the hospital admission was pre-arranged and not an emergency.
In the past week, the duke has been having unannounced "abdominal investigations" at the hospital, where police officers have been standing guard outside.
It is the fourth time in two years that Prince Philip has been hospitalised, raising concerns about his health.
British Prime Minister David Cameron's office sent a message to the prince on Twitter, saying, "The prime minister wishes the Duke of Edinburgh a swift recovery."
On Monday, he had pulled out of an engagement for the Royal National Institute of Blind People after becoming unwell ahead of last week's service marking 60 years since the Queen's coronation.
However, he was present at the service at Westminster Abbey on Tuesday.
Meanwhile, the 87-year-old queen carried on with her normal schedule of public engagements, which includes the official opening of the BBC's new headquarters at Broadcasting House in central London.
Prince Philip had been due to join her.
The couple married in 1947 and Philip is the longest-serving royal consort in British history, described by the Queen in 1997 as "my strength and stay all these years".
Despite their age, they both maintain a busy schedule and although the Queen has cut back her long-haul flights this year, the Duke visited Canada in April.
The Duke was born as Prince Philippos of Greece and Denmark on June 10, 1921, the nephew of Greece's King Constantine. He was moved to England when just 18 months old to attend a preparatory school.
As a Royal Navy cadet, he served on battleships in the Indian Ocean and the Mediterranean during World War II.