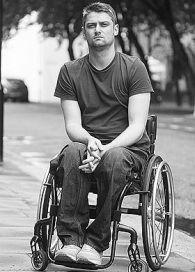 A British court on Monday began hearing the compensation claim of man paralysed during the 2008 Mumbai terror attacks with the victim suing the owners of the iconic Taj Mahal Palace Hotel, alleging they neglected security despite warnings of an imminent assault.
Will Pike's legal team will argue against an attempt by the Tata-owned Indian Hotels Company to prevent his case being heard in the high court in London.
The 33-year-old Londoner is taking legal action against the Tata Group firm, alleging that the hotel did little to provide security for residents despite several warnings that an attack on the luxury five-star facility was imminent.
The ghastly terrorist assault on India's financial hub left 166 people dead, five years ago.
Pike and his girlfriend at that time, Kelly Doyle, checked into the Taj Mahal Palace Hotel on November 26, 2008.
They allege there were limited security checks with only one metal detector and cursory screening of guests.
As their hotel room started to fill with smoke following the siege, and the sounds of gunfire became louder, they decided they had to escape and tried to break one of the windows, which were secured, with furniture in the room.
After several attempts they succeeded and were both able to perch on the window sill away from the smoke in the room.
To reach the ground they decided to knot bedding and curtains together as a makeshift rope.
Pike opted to climb down first, but the knots in the fabric came undone and he fell nearly 50 feet to the ground breaking his back, pelvis and leg and fracturing both his left wrist and right elbow suffering serious injuries. Fire fighters later saved Doyle.
"I hope it (the case) will ensure that public safety is placed before profits; hotels should have a responsibility to ensure the safety of their guests which should include disclosing information regarding terrorist threats," claims Pike.