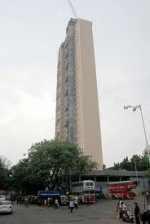 The two-year marathon inquiry conducted by a judicial commission into the Adarsh scam has ended with the Maharashtra [
Images
] government said to have admitted for the first time that the controversial housing society did not have necessary environmental clearances.
The commission set up in January 2011 wrapped up its inquiry into the scam on Tuesday and is likely to submit its final report to the state government next month, sources in the panel told PTI.
The government may accept or reject the findings of the commission.
Concluding his arguments, state government counsel A Y Sakhare is understood to have told the commission that the 31-storey plush Adarsh building in south Mumbai [
Images
] was constructed without Coastal Regulation Zone clearance or nod from the Union Ministry of Environment and Forest.
The sources said it is for the first time that the government, which had consistently maintained that no rules were violated in granting permissions to the building, has admitted that the society did not have the required environmental clearance.
The state is said to have supported the MoEF's claim that the March 2003 letter by the urban development department to the society was misrepresented as environmental clearance by one of the accused P V Deshmukh, a former deputy secretary in the department.
The MoEF, in response to UDD's letter forwarding the society's proposal for construction, had said that state has a body -- Maharashtra Coastal Zone Management Authority -- to look into CRZ clearances. The MoEF's response was allegedly misconstrued by Deshmukh as a clearance.
The state government in its final arguments is said to have noted that the society should not have constructed 31 floors as the Development Control Regulations, 1967, applicable to it, did not permit that. According to the state, the building situated in south Mumbai's upscale Colaba, could have been built only up to 46.5 m and not the present 100.7 m.     
According to the government, the Mumbai Metropolitan Region Development Authority a wrongly applied DCR 1991, which did not have height restrictions.
The commission, headed by Justice (retired) J A Patil, has started dictating its findings in chamber and will submit its final report to the government by the end of next month.        
The commission had in its interim report last year negated the defence ministry's claim on the land where the building stands and held that its ownership rested with the state government. The panel had also noted that the land was not reserved for Kargil [ Images ] war veterans, widows and their relatives.
The commission's final report will throw light on whether requisite permissions had been obtained by the society and if any rules violated by bureaucrats while granting various clearances.
A total of 214 witnesses were examined by the commission including Union Home Minister Sushilkumar Shinde, former Maharashtra chief ministers Vilasrao Deshmukh [ Images ] and Ashok Chavan [ Images ], former army chiefs N C Vij and Deepak Kapoor, several Indian Administrative Service officers and bureaucrats from the state and central government.
Ashok Chavan is an accused in the case but was never arrested.