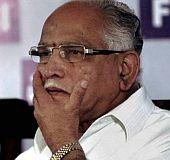 The Karnataka government seems to be headed for fresh trouble as two ministers and some MLAs, loyal to former Chief Minister B S Yeddyurappa, are likely to resign from their posts on Wednesday.
Energy Minister Shobha Karandlaje, a loyalist of KJP chief Yeddyurappa, dropped hints that she would resign from the ministry on Wednesday, ahead of a meeting of his supporters.
"I am proud and have satisfaction of performing well during my tenure as energy minister in the last two-and-a-half years. I am leaving the department. It is my last day, hopefully, in office", Karandlaje told media persons in Bengaluru.
In an embarrassment to CM Jagadish Shettar-led BJP government, Karandlaje had recently questioned it on law and order front in relation to safety of women.
Sources close to Yeddyurappa said Public Works Minister C M Udasi was likely quit the ministry, which has survived repeated threats by the KJP chief to topple it.
Though the Yeddyurappa camp has been claiming the support of 20-30 BJP MLAs and set deadlines, which turned out to be damp squibs with the legislators apparently developing cold feet over quitting the party ahead of assembly elections due in May.
When reporters sought Udasi's reaction on his plans to quit, he said "we will announce everything at a press conference on Wednesday".
B P Harish, MLA and a loyalist of Yeddyurappa, announced at a public meeting in Govinahalli that he was resigning his assembly membership on Wednesday.
"I am a follower of Yeddyurappa. Tomorrow, Yeddyurappa has called a meeting of his supporters in Bengaluru. I am attending it. I am also resigning my assembly membership," he said.
Sources said about 15-20 MLAs were expected to attend the meeting at Yeddyurappa's residence, march to Vidhana Soudha, state secretariat-cum-assembly complex, and submit their resignation to Speaker K G Bopaiah.
Ministers opting to quit, will send in their resignations to the Chief Minister, sources said.
They said that after submitting resignations, the MLAs were also likely to call on Governor H R Bhardwaj.