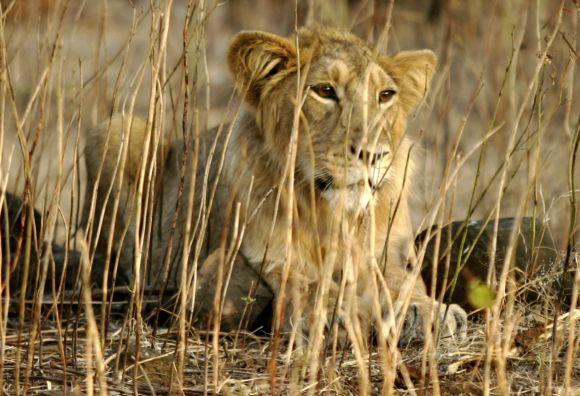 Two fully-grown Asiatic lionesses were killed under a running train in eastern Gir, Gujarat on Wednesday.

The incident occurred near Bhera village of port town Rajula in Amreli district, which forms a major part of the eastern Gir, around 7 am. The two lionesses were crossing the meter gauge railway line just when a goods train coming from Pipavav port ran over them. They were killed on the spot.
"Lions have been roaming around Rajula and nearby areas for a long time now. Though except last year, when a cub was killed under a running train, such incidents have rarely occurred," divisional forest officer J K Makwana told rediff.com.

"Primary investigation suggests that the two lionesses were fully mature and about seven years old. Arrangements are made to sent their corpses for postmortem," he added.

Around 50 lions have permanently settled in these coastal areas around Rajula and Jafrabad towns of Amreli district.

With this latest tragedy, nature and wildlife lovers have once again demanded better protection for the big cats, who keep falling in open wells and from time to time get crushed under heavy vehicles, which ply on the roads passing from Gir.
"This gruesome incident, in which two adult lionesses have been killed under a speeding train, should be an eye-opener for the forest authorities, who seem to take everything, including the safety of big cats, for granted," said Jaipal Rana, a wildlife activist.

"The Gujarat government must take special measures for the protection as well as safety of the Gir lions. We can't afford to lose our rare Asiatic lions like this," he added.

Image: Around 50 lions have permanently settled in these coastal areas around Rajula and Jafrabad towns of Amreli district

Photograph: Amit Dave/Reuters