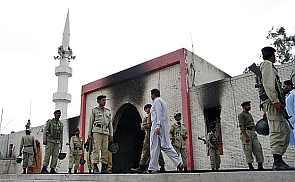 At least 15 people were killed and about 50 others injured when two blasts ripped through two mosques in the restive Khyber-Pakhtunkhwa province of northwest Pakistan on Friday, officials said.
The blasts occurred during Friday prayers in the mosques at Bazdara area of Malakand district, an erstwhile stronghold of the Pakistani Taliban.
Fifteen people were killed, officials were quoted by television news channels as saying. The mosques were damaged by the blasts.


Local residents took the injured to hospitals in nearby towns. Officials said many of the injured were in a critical condition.
Deputy Commissioner Amjad Ali said the death toll could rise. Security forces cordoned off the area and launched a search operation. No group claimed responsibility for the attacks.
The nature of the blasts could not immediately be ascertained. The blasts were the first major terrorist attacks in Khyber-Pakhtunkhwa after the May 11 general election.
Imran Khan's Pakistan Tehrik-e-Insaf, which has called for talks with the Taliban and other militant groups, is set to form government in the province with the support of two other parties.