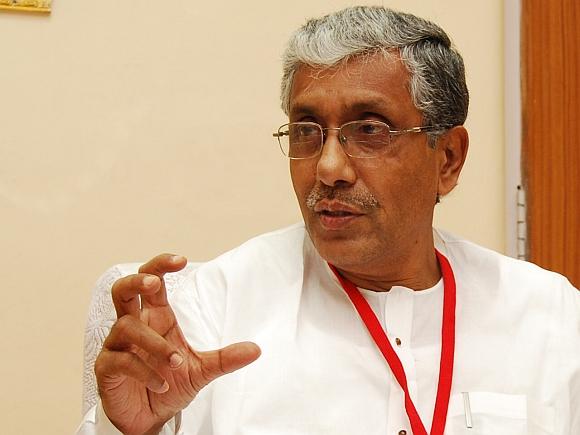 Tripura Chief Minister Manik Sarkar on Tuesday refused to be a member of a committee of the chief ministers proposed by Prime Minister Narendra Modi to suggest cashless transactions following demonetisation.
Prime Minister Narendra Modi in order to neutralise political turmoil over demonetisation within and outside Parliament had proposed the committee of CMs.
Speaking to reporters during a press conference Sarkar said, "Yesterday afternoon Finance Minister Arun Jaitley informed me over the phone that the prime minister wanted to talk to me. The government wants suggestions on the present demonetisation with the aim of cashless transaction and which is good. They want to form a committee of CMs and in the panel want to include the Tripura CM."
"Initially, I said that it is a highly technical matter and I have no personal experience or understand how much I can contribute to it. I wanted to know why all of a sudden I was required when he (the finance minister) informed me that CMs of others states would also be present. He additionally informed me that representatives from the NITI Aayog and the finance ministry would brief us on the issue. "
Sarkar said that he directly informed Finance Minister Arun Jaitley that he would not take part in the meeting.
According to the chief minister, the common man, small traders and daily labourers are the worst sufferers of the demonetisation scheme.
"What is going on in the entire country after Rs 500 and Rs 1000 notes have been banned and new Rs 2000 notes introduced. When one goes to the market with Rs 2000 note, both the customer and businessman can do business due crisis of change. There are crores of daily labourers and small businessman who depend on their daily income for the livelihood and in such a situation when 85 to 87 per cent of the currency notes are of Rs 500 and Rs 1000 notes which have been withdrawn has created problem," said Sarkar.
He also suggested that in order to provide some relief to the common man, the government should allow the use of banned Rs 500 and Rs 1000 notes till December 30.
He said, "So at least up to December 30, they should allow the use Rs 500 and Rs 1000 notes. In such a situation, digitisation or cashless transactions is a tough thing for me to comment if it is good."
According to him, introduction of cashless transactions in a country like India and such a huge population is quite a tough task and the present government's step towards it is total mismanagement.
He added, "I gathered information and came to know that probably in only Sweden it is in practice and it is a very small nation with small population but even America which is the most powerful economy could not do this. How can our nation with a population of 1.25 crore do transaction with plastic money without adequate number of banks throughout the nation and also in Tripura."
Sarkar informed that the Left party to which he belongs had protested in rallies and called for strike against the demonetisation step of the Centre and now if he takes part in such a committee it would mislead the common man and hence, he would like to keep away from it.
He said, "My participation in the committee means creation of confusion and we are trying to say our views on it from outside the Parliament."