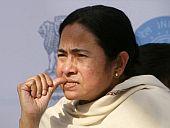 After a bitter separation with the Congress, the Trinamool Congress is mulling moving an adjournment motion under rule 184 that entails voting in the Winter Session of Parliament against the "anti-people" policies of the United Progressive Alliance government.
"We are keeping all options option, including tabling an adjournment motion under rule 184 that entails voting and also moving a motion under rule 193," Leader of the Trinamool Congress Parliamentary Party in Lok Sabha Sudip Bandyopadhyay said.
"Many political parties of both sides (in the ruling UPA alliance and the Opposition parties) will support us," he said.
He declined to name the parties, saying "It will be politically unwise to disclose the names of the parties right now".
He said that TMC with 19 Lok Sabha MPs and nine Rajya Sabha members would try for floor co-ordination with the Janata Dal (United), Biju Janata Dal and Samajwadi Party which were opposed to the decisions of the Centre.


"We will consult these parties for floor co-ordination before the start of the Winter Session of Parliament in the third week of next month," he said.
To a question, he ruled out the possibility of talking with the CPI-M for floor co-ordination.

"CPI-M's opposition is not genuine. On the contrary, it wants to isolate the TMC politically".
Asked about TMC chief Mamata Banerjee's earlier statement that the party planned to move a no-confidence motion against the government, Bandyopadhay replied, "An appropriate decision will be taken at an appropriate time".

He said his party would also grill the government on the CAG report on coal block allocation.

Maintaining that the TMC was totally opposed to disruption of the House, he said, "In the last monsoon session about 80 per cent of the time was wasted because of disruption of Parliament.
"We want a vibrant House devoted to discuss issues affecting the common people," he said.
Asked whether he would blame the BJP for the disruption in Parliament, he said "During NDA rule Congress also sometimes adopted a similar tactic. So, both major parties are to be blamed for this".

He claimed that the Trinamool Congress has proved that it did not care for ministerial positions when the interests of the common people were jeopardised due to the Centre's policies.
He was referring to the resignation of the six party ministers, including himself, following TMC's withdrawal of support to the UPA government in protest against FDI in retail, cap on subsidised cooking gas cylinders and hike in diesel price.