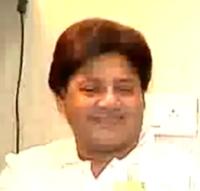 The Trinamool Congress leadership on Tuesday asked its member of Parliament Tapas Pal to tender an unconditional apology to people for allegedly threatening to kill Communist Party of India-Marxist workers and have their women raped, a comment for which the party is facing widespread condemnation.
"His comment is condemnable. The party does not approve of it. The party has sought an explanation from him and cautioned him. The party demanded that he tender an unconditional apology to the people for his comment," TMC general secretary Mukul Roy told PTI.
Earlier, state education minister and senior TMC leader Partha Chatterjee told media persons at the assembly premises, "Such kind of comment is condemnable. Our party leader is deeply saddened beyond comprehension. The matter came to her notice yesterday. He has been cautioned and an explanation has been sought from him. The party does not support this kind of conduct."
Asked if the administration would act against the errant MP, he said, "I have informed you about the views of the party. The administration will speak for itself."
Another senior TMC leader and Panchayat minister Subrata Mukherjee said a decision in this regard would be taken at a meeting of party MPs on Wednesday to be presided over by TMC Supremo Mamata Banerjee.
She is to preside over a scheduled meeting on Wednesday with the party MPs which she had convened last week to chalk out the strategy for the ensuing budget session of Parliament.
The Trinamool on Monday demanded an explanation in writing from the party's actor-turned MP within 48 hours for his controversial remarks, which triggered an uproar.
On Opposition's hue and cry over the issue and demand for stern action against Pal, Chatterjee said "The CPI-M has no right to say so, given what they had done in the past. "It is not that we have to follow the footsteps of what others had done," Chatterjee said referring to instances of senior CPI-M leader Anisur Rahman's derogatory comments against Banerjee at in 2012 and Banerjee being pulled by the hair and driven out from the Writers Building when Jyoti Basu was chief minister.
The TMC demanded from the actor-turned MP to give an explanation in writing within 48 hours on why he made such remarks. Pal, a Bengali film actor, was elected to the Lok Sabha from the Krishnagar constituency in Nadia district twice on TMC ticket in 2009 and 2014.