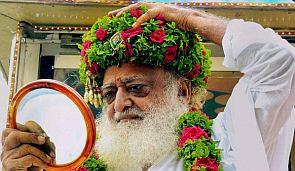 The trial of controversial self-styled godman Asaram Bapu and four other accused in the case of alleged sexual assault on a minor will begin at a court in Jopdhpur on December 4.
The district and sessions court took cognisance of charges against Asaram and the four co-accused today and deferred the matter for trial till December 4. Following directions of Rajasthan high court, the trial will take place on day-to-day basis and will be completed in a period of 60 days.
Asaram, 75, was arrested in August on charges of sexually assaulting a minor girl at his Jodhpur ashram and has been in prison here since then.
The other accused in the case are Sanchita Gupta alias Shilpi, the warden of Asaram's ashram in Chhindwara, his cook Prakash, aide Shiva and ashram director Sharad Chandra.
Manish Vyas, the counsel of the victim, said the court has taken cognisance of all the charges against the accused under which they have been framed.
"Now with all the charges stay put, the court will begin the trial of the case from December 4," Manish said. All the five accused, inducing Asaram, have been framed under various charges of rape, human trafficking, wrongful confinement and conspiracy under various sections of the Indian penal Code, Juvenile Justice Act and Prevention of Children from Sexual Offence Act.
Before this, Judge Manoj Kumar Vyas had heard arguments by both sides and scrutinised the relevant documents before reserving the verdict on November 23.
The counsels of Asaram and other accused, however, had challenged the charges against them but the court, after considering the facts and circumstances prima facie, did not rely upon the arguments of defence.
The Jodhpur police had filed the charge sheet in the case on November 6 after an investigation of 77 days. The 1,011-page charge sheet comprises 121 documents, and has statements of 58 witnesses.
Besides this case, Asaram and his son Narayan Sai are also accused in a case of sexual assault lodged by two Surat-based sisters.