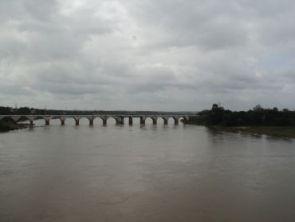 Upping the ante against Karnataka for its refusal to release Cauvery water, Tamil Nadu has decided to file a contempt petition in Supreme Court besides seeking a direction for setting up two regulatory bodies to implement the Cauvery Water Dispute Tribunal's final award.
Slamming the stand of Karnataka that the Supervisory Committee on Cauvery was not properly formed and it cannot take any decisions, Chief Minister Jayalalithaa said, "this amounts to contempt of court".
The decision to approach the apex court on the vexed issue was taken at a review meeting chaired by Jayalaithaa, two-days after the newly appointed Supervisory Committee under the Union Water Resources Ministry, rejected the state's demand for release of water from Karnataka.
Jayalalithaa in a statement here said, her government would also file another petition in the Supreme Court praying for immediate appointment of Cauvery Management Board and Cauvery Water Regulatory Committee in compliance of the final award of the tribunal.
"The Supervisory Committee on Cauvery water sharing issue was formed after Karnataka consented to it. But, the neighbouring state is now adopting a stand that it is not properly formed and it cannot take decisions. This clearly demonstrates that Karnataka is not interested in sharing water with Tamil Nadu", Jayalalithaa charged.
The Cauvery Supervisory Committee headed by Union Water Resources Secretary S K Das, at its June 12 meeting, rejected Tamil Nadu's demand for its share of water saying it was not feasible, given the deficit inflows and storage level in reservoirs in Karnataka.
The committee, however, had promised Tamil Nadu that it would review the situation during the first week of July, which was not acceptable to the state.
Jayalalithaa assured the Cauvery basin farmers in her state that her government will take "strong" steps to get water from Karnataka for the short-term 'kuruvai' paddy crop.
The Mettur Dam, lifeline of Cauvery delta farmers, could not be opened on the traditional date of June 12 for Kuruvai season in view of poor storage. Observing that the monsoon rains registered so far in this year was 156 mm compared to the regular 180 mm, Jayalalithaa said it was informed during the review meeting that water from the Mettur dam which currently stands at 17.65 feet, cannot be released for the cultivation of Kuruvai crop.
It was also informed in the meeting that the level of potable water also got reduced due to poor rainfall in 2013 compared to last year, she said.
She announced a series of steps to help the delta farmers to cultivate Kuruvai crop.
Accordingly, she said as done last year, three phase electricity would be supplied uninterrupted for 12 hours a day to the delta farmers from June 15 till September for operating bore wells.
6000 HDPE pipes required to supply water to agricultural lands would be given to the farmers free of cost. "This would cost Rs 12 crore to the government", she said.
Besides, in order to enhance the kuruvai cultivation, fertilisers and pesticides would be given to the farmers free of cost.
"This would cost Rs six crore to the government", she said.
Through these initiatives, kuruvai crops can be cultivated on one lakh acre land, she said in the statement.
Citing non-availability of water, DMK Chief M Karunanidhi had earlier this week sought to know the steps being taken by Jayalalithaa to help the farmers.