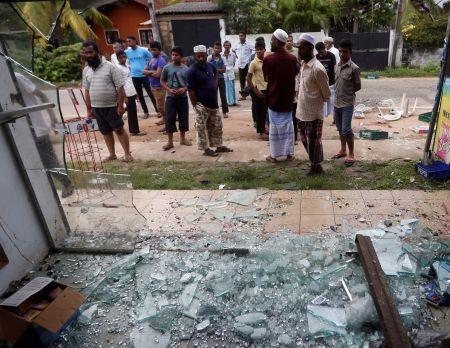 At least three people were killed and nearly 100 others injured when communal clashes broke out in a popular Sri Lankan tourist region, even as President Mahinda Rajapaksa on Monday warned rioters against taking law into their own hands in curfew-bound areas.
The ethnic violence between Buddhists and minority Muslims began on Sunday night during a rally by majority nationalist group Bodu Bala Sena in Muslim-dominated areas of Beruwala, DhargaTown and Aluthgama on the Sinhala-dominated south-western coast in protest against a road rage incident.
"Three deaths have occurred and 78 people have been seriously wounded in the mob attacks. Places of Muslim religious worship have also been attacked with total impunity," Justice Minister Rauf Hakeem said.
However, independent report suggested that nearly 100 people were wounded in the violence.
Hakeem said scores of homes and businesses have been set on fire. Some mosques in the areas were also attacked. Authorities said the curfew imposed on Sunday night would remain in effect in Aluthgama and Beruwala after Muslim-owned shops and homes were torched in the rampage by a Buddhist mob.
"The curfew will continue even though the situation is under control," police spokesman Ajith Rohana said.
The affected areas, mainly inhabited by Muslims who constitute about 10 per cent of Sri Lanka's 20 million population, are about 60 kilometre south of the capital Colombo.
Police used tear gas to disperse the rioters but failed to prevent clashes in the two towns, often frequented by international tourists. Later, members of the Special Task Force used water canons to disperse the rioters.
President Mahinda Rajapaksa, who is currently visiting Bolivia, has said in a statement that he would "not to let anyone take law into their hands". The roots of the incident go back to last Thursday when a Buddhist monk was allegedly beaten by a Muslim in the Beruwala town after the traffic incident.
Residents of the towns said police did little to protect them during the violence -- a charge rejected by the police. BBS over the last two years have been running a counter campaign against what they have termed an extremist campaign by the Muslim community. They accuse minorities of enjoying undue political and economic influence.
The attacks are the latest in a series of religious clashes to hit the island following unrest in January and also last year when Buddhist mobs attacked a mosque in the capital Colombo.
Meanwhile, the United States asked Sri Lanka to end the violence. "We urge the government to ensure that order is preserved and the lives of all citizens, places of worship, and property are protected," the US embassy said in a statement.
Image: Muslims stand next to a burnt shop after a clash between Buddhists and Muslims in Aluthgama, Sri Lanka. Photograph: Dinuka Liyanawatte/Reuters.