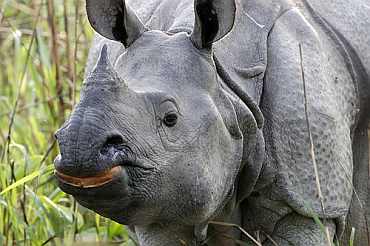 Three persons, including two former terrorists, have been arrested for their alleged involvement in recent incidents of rhino poaching in Kaziranga National Park.
Police said two former Karbi Peoples Liberation Tigers terrorists were arrested on Wednesday night at Howraghat in Assam's Karbi Anglong district while a third person was nabbed from Dimapur in Nagaland.
All the three have been identified. The two former terrorists had surrendered to the army at Tezpur a few months ago.
Their interrogation is on and more arrests were expected, the police said. Security forces had intensified operations in areas bordering Kaziranga National Park to nab those involved in the killing of rhinos and removal of their horns.
Altogether 16 rhinos have been killed so far this year, including five over four days in the last week of September, by poachers, while 28 have perished in the floods during the period.
Assam government has recommended a Central Bureau of Investigation inquiry into poaching cases during the last three years and deployment of the army and central para-military forces in areas adjoining the national park, which is famous for its rhino population.
A 100-member team of the elite Assam Forest Protection Force has been already sent to the Park and another 50 personnel would be sent soon for the protection of the pachyderm.