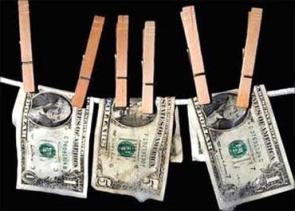 In its recent report, the Financial Action Task Force has stated that 1,704 cases of money laundering are currently under probe in India.
But the conviction rate in cases of money laundering, which are being probed by the task force, is a shocking three per cent.
Money laundering can be done in various nefarious ways -- funds can be stashed away in foreign banks, reputed India banks can dabble in laundering operations and money can be rerouted for serious crimes like drug trafficking and terror strikes.
The detection rate in cases of financial fraud has gone up and this is a positive sign, says an official in the Financial Intelligence Unit.
But the dismal conviction rate is hardly likely to deter white collar criminals from pulling off their crimes as only five people have been convicted over money laundering cases in the last seven years in India.
There have been cases of politicians and businessmen laundering money via Indian banks without ascertaining the source of income.
Recently, a senior politician involved in a case of money laundering was let off the hook after he paid a fine or Rs 24 crore. An unofficial decree states that as long as a hefty fine is paid, such high-profile criminals can go scot-free; their reputation remains untarnished.
Professor Vaidyanathan, who is associated with the Indian Institute of Management, has authored several papers on money laundering and black money.
"The government should prosecute such criminals and make their names public," said Professor Vaidyanathan.
Even cases of terror financing have been botched due to delayed probe by investigators and witnesses turning hostile.
"The Witness Protection Act should be made stronger and the court should seriously consider charging witnesses who turn hostile with perjury," said Professor Vaidyanathan.
As per the report of the FATF, there are 1,704 registered cases of money laundering today. The number of cases involving terror activities has increased and 470 cases such cases are being probed.