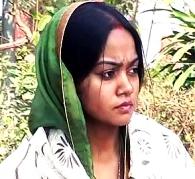 A third domestic help of Bahujan Samaj Party MP Dhananjay Singh's wife Jagriti Singh has claimed that she too was assaulted.

Jagriti was arrested over the murder of a domestic help and the torture of another while her husband has been arrested for destruction of evidence.

On Wednesday they couple were sent to five day custody even as the police told the court about a third domestic help who was also beaten mercilessly. The third help, who is recovering in hospital said, that she was beaten and burnt by Jagriti so much that she couldn't even walk. Her statement has been recorded by a magistrate.
Dhananjay, BSP MP from Jaunpur constituency in Uttar Pradesh, and Jagriti, a dental surgeon at the RML hospital, were produced before Metropolitan Magistrate Dheeraj Mittal following their arrest on Tuesday in connection with the death of their 35-year-old maid Rakhi Bhadra, a resident of West Bengal.
"The alleged offences are of very serious nature. The accused persons have been arrested on November 5. In my considered opinion for the recovery of the case property and in aid of the investigation, five days police custody remand is desirable. Accordingly both the accused are remanded to police custody till November 11," the magistrate said.

The police had sought seven days remand of both the accused, saying they have to recover weapons of the offence, including an iron press and video recording of the CCTV footage installed at their residence where the incident took place.
The police said that besides the deceased, there were two more domestic helps, including a 17-year-old boy, employed at their residence and they were also beaten up mercilessly by Jagriti, 29, and Dhananjay, 38, as well.

Additional public prosecutor Mukul Kumar told the court that one of the maids, Meena, was severely injured and she is presently undergoing treatment at a hospital. He said that the domestic helps were beaten up by wooden sticks, iron rods, iron press and even metallic deer horns by the accused.