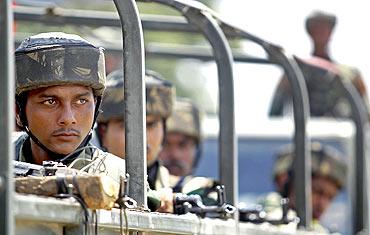 Jammu and Kashmir Governor N N Vohra on Monday said that though the state witnessed a perceptible improvement in the internal security environment, the security force casualties in 2013 were a matter of concern.

Opening the budget session of the state legislature in Jammu, which began on a stormy note, Vohra said, "Over the past few years, there has been a decline in incidents of terrorist violence and a perceptible improvement in the internal security environment. During the year 2013, terrorist related incidents declined by around 23 per cent over the pervious year."
Vohra said that due to progressive improvement in the overall security environment, over one million tourists visited the state during 2012 and 2013.
"It is also a matter for concern that as many as 53 security forces personnel were killed in 2013 against 15 such casualties in 2012. Taking a very serious view of such attacks, all possible corrective measures are being put in place."
He, however, said there were 244 ceasefire violations along the Line of Control and the International Border, which marked a large increase over the past year.
"While paying homage to all the officers and men, who laid down their lives for protecting the territorial integrity of our country, we shall need to keep in mind the increasing desperation of militants and their sponsors from across and the likelihood that every possible attempt would be made to disrupt the two elections which shall be conducted this year. Our security forces shall have to continue their strict vigil along the borders," Vohra said.
The governor said that the security forces have been highly sensitised to ensure against causing any collateral damages or violation of human rights while carrying out counter militancy operations. "New standard operating procedures have been adopted and enforced as the operational guidelines for security forces to minimise the collateral damages during counter insurgency operations. The government is committed to the policy of zero tolerance of any human rights violation and to take deterrent action against erring personnel."
He said that progressive improvement in the security environment had enabled the government to gradually reduce the visibility of the security forces and to reduce their footprint in the inhabited areas by relocating and redeploying them. "As a result of this approach, nearly 1560 buildings -- including schools, hospitals, hotels, industrial units, private buildings and cinema halls -- occupied by security forces have been vacated and restored to their original use. Efforts are underway to have the remaining buildings also vacated at the earliest. It is also relevant to mention that 54 bunkers have been removed from public places in Srinagar city," he said.

Image: Security personnel patrol a curfew-bound locality in Panthachowk on the outskirts of Srinagar

Photograph: Reuters