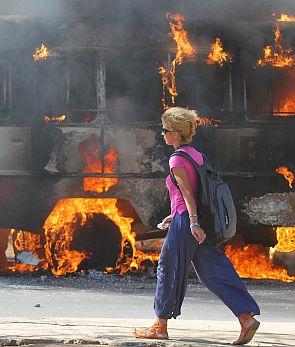 Government employees in 13 districts of coastal Andhra and Rayalaseema launched an indefinite strike on Tuesday protesting the proposed bifurcation of Andhra Pradesh.
With employees of Andhra Pradesh State Road Transport Corporation (APSRTC) joining the strike, more than 11,000 buses remained confined to the depots affecting transportation not only across the region but also to the state capital.

Bus services to Tirumala Hills, the abode of Lord Venkateswara, also came to a grinding halt since midnight.
This was the first time in more than three decades that not a single bus plied to Tirumala Hills, sources said in Hyderabad.
Lending support to the striking employees and the agitating people, petrol station owners are voluntarily observing a 24-hour bandh since Tuesday morning.
Meanwhile, all sections of society in Andhra and Rayalaseema regions continued with their protests on the issue for the 14th consecutive day.
Normal life has been largely affected because of the people's agitation and employees strike in various districts of Seemaandhra region.
In Visakhapatnam, the Samaikhyandhra agitation launched by various Joint Action Committees (JACs) intensified with local APNGOs unit and RTC employees striking work.

Commercial establishments, big shopping malls and schools remained closed to protest he bifurcation.
RTC workers, who abstained from their duties, formed a human chain on the main road near Maddilapalam bus depot. According to RTC sources, nearly 1,063 buses in the district remained confined to nine depots.

Nearly 3,500 revenue employees are boycotting duties and taking active part in the agitation. About 56 government departments along with MPDOS, Andhra university staff and others have announced their solidarity to the strike.

About 30,000 employees of various government departments, educational institutions and others will take part in the stir.

Students JAC Convener L Govinda said they have decided to conduct a public meeting tomorrow at engineering college ground with one lakh people and also launch a millennium march at Ramakrishna beach on August 18.

They also plan to conduct a big public meeting at Hyderabad to mount pressure on the central government.
The petrol dealers closed their bunks from midnight.

Meanwhile, security has been beefed up in the district by deploying large number of police personnel at various places to maintain law and order.
Two companies, each of the Rapid Action Force, Central Reserve Police Force and Andhra Pradesh special police, besides Armed Reserve Forces and nearly 2,000 personnel of local police with water cannons have been deployed at various vital installations, all government offices and at RTC depots in the city.
City Police Commissioner B Shivadhar Reddy urged protesters to hold peaceful demonstrations and warned that strict action will be initiated in case of violence.
In Vijaywada, about 59,000 government employees and 15,000 public sector undertaking employees are participating in the strike. RTC employees and APNGOS staged demonstrations at the RTC bus station in the city.
The APNGOs Association President and Convenor of Government Employees Joint Action Committee, A Vidayasagar demanded resignation from all people representatives from Seemandhra districts.
In Krishna district, buses from all 14 depots remained off roads. According to Employees Union APSRTC Krishna District Secretary, M D Prasad the strike is total.

In West and East Godavari districts, over 1200 buses from all depots joined the strike.
Meanwhile, the hunger strike launched by the Veena, wife of former state minister Thota Narasimham in Konaseema area entered the fourth day on Tuesday.
East Godavari lawyers JAC continued with their relay-hunger strike in the district.
Seemandhra Lawyer JAC will meet here on August 17 and discuss its future course of action, its Co-convener Muppalla Subba Rao said.
Kakinada anchor port and deep water port has been closed for two days from Tuesday in view of ongoing agitation.
Protests, rallies and demonstrations were held at Kakinada, Rajahmundry, Kothapeta, Mummadivaram, Ravulapalem, Tuni and other areas of East Godavari district.
Educational, financial institutions and commercial establishments have remained close for last 14 days.
Police pickets has been posted at sensitive places including vital installations in the district as a precautionary measure. "So far the demonstrations are going peacefully, and no untoward incident was reported from any part of the district," a police official said.