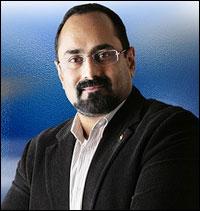 The Bharatiya Janata Party in Karnataka has sought another chance from the people of Karnataka. Will the people give them a chance is a question for which we would get an answer on May 8?
Member of Parliament Rajeev Chandrasekhar, while discussing the elections says in this interview with rediff.com's Vicky Nanjappa that the BJP will look back at their term as a squandered opportunity because of their personal ambitions and infighting.
What are your predictions for the elections?

Surveys conducted by local television channel Suvarna News 24x7 give the advantage to Congress -- as the BJP vote of 2008 seems to have divided by the formation of the Karnataka Janatha Paksha. But the key will be the next few weeks and the campaigning by candidates and their respective parties.

Which party according to you is the most suitable to govern Karnataka?

Whichever party makes the most credible commitment to clean and citizen centric governance and to boost economic activity, growth and creation of jobs.

The BJP is being remembered for dissidence and corruption. Your views?

I believe the BJP will look back at their term as a squandered opportunity because of their personal ambitions and dissidence. The party had a good manifesto and had a great opportunity to put our state on a new path of growth and development.

What would you expect the next government in Karnataka to do in terms of infrastructure -- both urban and rural?

The new government must establish a culture of development and clean effective governance for all. Bangalore must be developed into a destination for the biggest investors and a city that provides good standard of living for all rich, middle-class and poor. The new government must develop a strategic multi-year plan and make all stakeholders move towards that.

Are you glad that this election does not have the mining barons controlling the scene?

Yes. And I hope that other vested interests are also kept out.

Would you like to see a coalition government in Karnataka?

No. It's in the state's interest to have a strong single party government. Coalition governments give politicians an alibi and excuse for malgovernance.

The Janata Dal-Secular, the BJP, the Congress -- could you tell us your preferred choice of a chief minister in case any of these parties come to power?

I know and respect leaders in all these parties. There are good and bad leaders in all parties. I can only pray that our new CM is a person who cares deeply about our city and state and has the leadership capabilities to deliver on the promises made to our people and their aspirations.

Will a campaign by Gujarat Chief Minister Narendra Modi help the BJP in Karnataka?

I am of the view that leaders such as Modi and Congress vice president Rahul Gandhi are important to shift the debate to focus on key issues of governance and the future of our country.
So it's good to have some charismatic/visionary national leaders to help shape the local debate and add elements to the discourse that are other than local issues.