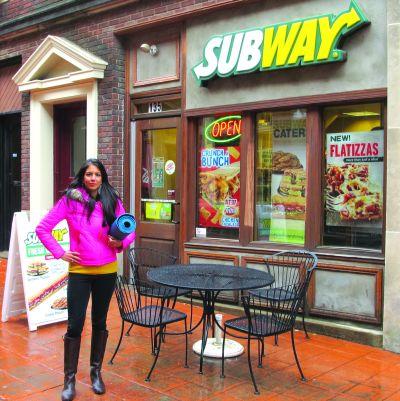 Vani Hari discusses her battle for healthier food in America with P Rajendran
Azodicarbonamide is not a word most people are used to seeing in headlines. But it made to a few February 6, thanks to Vani Hari, a North Carolina-based activist who highlighted its potential danger.
Vani Hari, the clean food activist behind foodbabe.com, had written about American fast food restaurant chain Subway and azodicarbonamide before. She had even mailed and called Subway itself to no visible effect. But her February 4 petition resulted in a groundswell of support, with more than 50,000 people signing up in 24 hours.
People who saw it questioned Subway franchises. The company bowed to consumer pressure, and said it would no longer use the chemical, which is also used in the production of yoga mats and shoe soles, used to encourage elasticity by encouraging foam production.
Hari described living a typical American lifestyle -- eating fast foods she thought was healthy, including Subway.
"That was something I was eating all the time. I developed a lot of health problems. It wasn't until I (got off) a processed (food) diet, and stopped eating fast foods that I started to feel better."
She gave up Subway sandwiches "because it no longer tasted that great to me. It felt, well, processed. Once you eat clean, organic plant-based food, you lose the taste for processed food."
"For someone like me, who lived my whole life with asthma, with allergies, with eczema all over my face, and the fact that I thought I was going to have these forever, and to know that when I gave up processed food, when I looked into what I was eating, and I stuck to a real, whole-food diet, that all of those went away... I want people to know the truth -- that if they clean up their diet, if they eliminate these chemicals, they have the hope to not feel bad for the rest of their lives," she said.
Given her background in computer science, she said she had to prepare herself when she set out to investigate Subway in 2012.
She found 15 ingredients in Subway's bread, the effects of which she knew little about.
Subway was not selling this anywhere else in the world other than the United States and Canada, she said and spoke of the links she found between azodicarbonamide and cancer. While azodicarbonamide is harmless at room temperature, and certainly not at the less than 2 percent level seen in bread, baking results in the production of ethyl carbamate, which has been known to cause cancer in rodents.
While azodicarbonamide itself may not be directly dangerous on consumption, the World Health Organisation has described the deleterious effects of inhaling it, including allergic sensitivity and respiratory illness.
She said azodicarbonamide used in food was also banned across Europe and Australia, even in China. Starbucks China clarified recently that it still uses azodicarbonamide and that such use is legal in China.
In her petition, Hari had also pointed out that the dangers of azodicarbonamide could be assessed from the fact that people in a half-mile radius near Chicago had to be evacuated when a truck of it overturned in August 2001.
The Chicago police had described the danger as being primarily that of its flammability, and to a lesser extent its toxicity on inhalation.
Hari said she pushed her efforts to get to Subway a notch after she saw Michelle Obama and Olympic athletes endorse Subway.
"I emailed them, called them. They wouldn't answer me. So, I started the petition."
Now the number of signatures are inching towards 100,000.
Her father Yogeshwar, an engineer from Ludhiana, Punjab, and his wife Veena wanted their children to live an American life.
"He wanted to embrace the American culture and really fit in. He introduced my mom to McDonald's hamburgers, and all the things... And when we were growing up they really wanted us to embrace being American, but also holding Indian ideals and customs," Hari said.
"My mom would make amazing Indian food for my dad from scratch, but then me and my brother would ask for hamburgers and hot dogs and unhealthy food. I wish I'd known back then that the Indian food my mom was cooking was very healthy. (But) they just wanted us to fit in. We were the only Indian children on our block and in our school."
"It wasn't till I was older, in my 20s, that I really started to appreciate being Indian."
So though Hari married an American, she had an Indian wedding, going over to seek blessings of the family in Ludhiana and getting her wedding dress from there.
Hari has also taken on the companies producing lab-produced genetically modified food.
"(I am) not so much against GMOs as for the right to know what's in our food," Hari said, describing the lack of political will in the United States to get food compulsorily labeled for modification as in 65 other countries.
Hari also described her success in bringing around another chain, Chick-fil-a, which reached out to her to develop a "roadmap for change," which included raising chicken on natural diets, and taking out TDHQ (tertiary butylhydroquinone), a preservative that, while deemed safe in both Europe and US at levels used in food, has been shown to cause cancer at higher dosages.
Hari believes that all big food companies have influence on decisions made in Washington, DC and wants to do her bit to change that.
"As an American, I want to make the choice when I go to the grocery story, am I supporting a system that is going to toxify our world, or am I supporting a system that's going to be (producing) a healthier environment for myself or my future children, for everybody else," she said.
Subway officials were to get back to India Abroad, but had not called by press time.