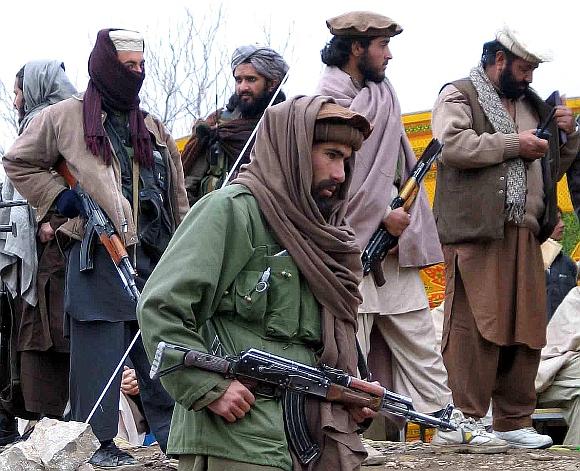 In a brutal attack, terrorists beheaded three members of an anti-Taliban militia and kidnapped four more in Pakistan's lawless Khyber Agency, officials said on Tuesday.
Dozens of armed terrorists stormed the office of the Shalobar "peace committee" in a pre-dawn attack in Bara area of Khyber Agency. Members of the militia were asleep at the time.
The militia members had no time to respond to the sudden assault. Though they fired at the attackers, the terrorists beheaded three militia members and took another four hostages, officials said.
The terrorists took with them the heads of three militia members, which they threw on the roadside while fleeing. The terrorists warned local residents not to remove the heads from the road before 12 pm on Tuesday, officials said.
Two of the beheaded bodies were found in Qamabarabad at Shalobar, media reports said. The reports did not give details about the third body.
The three men killed by the terrorists had recently joined the peace committee as volunteers. No terrorist group has so far claimed responsibility for the attack. The political administration of Khyber Agency has started a probe into the incident.
As part of its counter-terrorism strategy, the Pakistan government and security forces had encouraged local tribesmen to set up militias to fight the Taliban and other militant groups.
Dozens of leaders and members of these militias have been killed in terrorist attacks in the northwestern Khyber-Pakhtunkhwa province and the adjoining tribal belt.