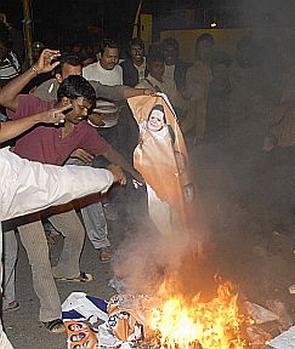 Union Minister of State for Commerce Daggubati Purandeswari on Saturday indicated that Congress ministers and Members of Parliament from Seemandhra would vote against the Andhra Pradesh Reorganisation Bill-2013 in Parliament if the Centre did not concede to their demands over protecting the interests of people of their region.
She has shot off a letter to this effect to Congress President Sonia Gandhi.
"We have fought extensively for protecting the interests of Seemandhra in the event of the bifurcation of Andhra Pradesh. If the Centre does not concede to our demands in this regard, we may vote against the Bill," Purandeswari told reporters.
"I have written a letter to Sonia Gandhi requesting that the concerns of people of Seemandhra be addressed ahead of the bifurcation," she said.
The Centre's stand on the Polavaram multi-purpose project and Hyderabad had "immensely pained us", the Union minister said.
The entire Polavaram project should be in Andhra region, she said, referring to the demand for merging the Bhadrachalam division with coastal Andhra.
Purandeswari also opposed the proposal for a common capital.
"There is no provision in the Constitution for a common capital," she pointed out.
"Making Hyderabad the common capital meant insulting the chief minister of (residuary) Andhra Pradesh. How could the chief minister govern his state sitting in Hyderabad," she wondered.
On the Centre's promise of setting up of institutions of higher learning like IIT and IIM in residuary Andhra Pradesh in the event of a division, the Union minister observed that there was no clarity on the allocation of funds to the two newly-formed states.
"It's the Centre's responsibility to provide an assurance to students of Seemandhra on higher education opportunities in the event of the state's bifurcation," she added.
Image: A protest against the creation of Telangana ' Photograph: SnapsIndia