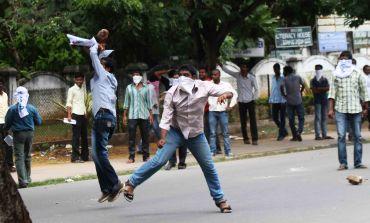 Tension prevailed on the Osmania University campus on Thursday when pro-Telangana students pelted stones at police as they were prevented from taking out a rally to the Secretariat.
The police responded by lobbing teargas shells to disperse the agitators who continued to hurl stones at brief intervals, before fleeing in the varsity, officials said.
Scores of pro-Telangana students converged at the Arts College premises on the campus and tried to take out the rally as part of 'Chalo Secretariat' call given by OU-Joint Action Committee and Telangana Students JAC, demanding formation of a separate Telangana state. However, the police foiled their attempts as the protesters were stopped near the NCC gate.
Angered over this, the protesters raised slogans, argued with police personnel and started pelting stones on them. The police retaliated by firing teargas shells.
A cameraman of a local TV channel sustained head injuries in the incident.
A senior police officer said they were advising and counselling the students to carry out their protest in the university premises itself and not venture out, as there was no permission for the procession. However, the protesting students insisted that they be allowed to take out the rally and said they also planned to offer tributes to freedom fighter Konda Laxman Bapuji by visiting 'Jaladrusyam', where he was cremated last week.
Meanwhile, security has been stepped up in different parts of the city with deployment of additional forces, including central para-military forces, in view of the proposed 'Telangana March' in Hyderabad on September 30, as police anticipates violence.
Rapid Action Force personnel have also been kept on standby around the OU campus, officials added.
Image: Pro-Telangana students clash with police near Hyderabad's Osmania University on Thursday
Photograph: SnapsIndia