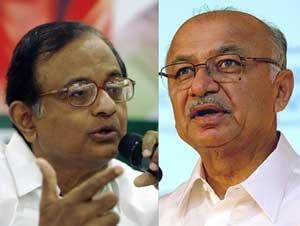 A case registered against Home Minister Sushilkumar Shinde and his predecessor P Chidambaram in Hyderabad for allegedly "cheating" Telangana people through "misleading" statements about the separate statehood has been closed for lack of evidence, Cyberabad police said on Monday.
A final report conveying closure of investigations for want of evidence was filed before the metropolitan magistrate court, they said.
L B Nagar police booked Shinde and Chidambaram under section 420 (cheating) of the Indian Penal Code on June 22 on the direction of the court on a private petition filed by Telangana Junior Advocates' Association (TJAA) member Naresh Kumar in January, Inspector P Srinivas Reddy told PTI.
"A final report informing no evidence against Shinde and Chidambaram was found after due investigations into the case and they do not attract the cheating offence...We also took legal opinion in the matter and decided to close the case," he said.
On January 28, the court had directed L B Nagar police to register an FIR against the union ministers, probe allegations and file a status report before it by February 14.
On June 11, the court took cognisance against LB Nagar Station House Officer (SHO) under Section 166 (a) (public servant disobeying the law) of the IPC for not filing the status report.
The court also directed the officer to appear before it on June 20.
In his petition, Kumar had mentioned statements of Shinde and Chidambaram on the Telangana statehood issue and sought the court's directions to refer the matter to the police for investigation and registration of a case.
During the all-party meeting convened by the Centre on the separate statehood issue in New Delhi on December 28 last, Shinde had allegedly claimed that the Telangana issue would be resolved within "a month".
On December 9, 2009, Chidambaram, the then home minister, had allegedly announced initiation of a process to create a Telangana state. However, on December 23, 2009, Chidambaram allegedly modified the statement following agitation in the coastal Andhra and Rayalaseema regions of Andhra Pradesh.
Both the ministers didn't keep their word and thus cheated the people of Telangana, Kumar had alleged in the petition.