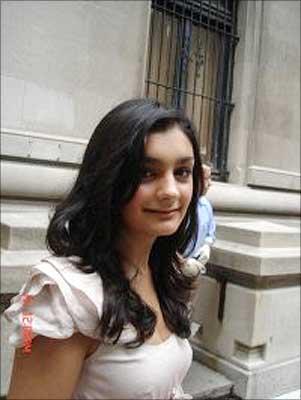 Tara Suri, 17, a high school junior who has been helping orphaned children, has won the grand prize in the Teen Hero Awards programme of the Taco Bell Foundation for Teens.
Tara, a Scarsdale, New York, resident, began volunteering when she was 13, when she founded Helping Orphans Pursue Education. Through the organisation, she has helped provide children at orphanages in India and Sudan with access to shelter, education, health care, and other daily necessities.

She also launched www.aandolan.org, a Web site that connects youth in the United States to grassroots organisations around the world.
Tara said the win "inspires me to do more to make a difference. I hope that we can amplify the youth movement."
She suggested that everyone who hoped to make a difference join the Turn Your World Around community on turnyourworldaround.org, a social-change portal of youth.
The programme implements social-change initiatives and works to provide youth with the tools to make a difference. Its initiatives include helping youth to start their own projects, by providing them with the resources and tools to make a difference.
The prize includes a $15,000 grant to an eligible charity of her choice. "We will be using the money to help develop and enhance a holistic educational arts program for the daughters of sex-trafficking victims in India," Tara said.
Her compassionate volunteerism has gained Tara a lot of recognition. She was selected from 21,000 applicants as the 2007 CosmoGirl of the Year.
She also won the Nestle Very Best in Youth Award, the Bentley Tomorrow25 award, and the President's Call to Service Award. She was named a 'We Are Family Foundation Global Teen Leader', and featured on CNN's Young People Who Rock.
In the Taco Bell programme, held in conjunction with April's National Volunteer Month, entrants composed an original essay of up to 250 words explaining how they, or the teens they were nominating, are making a difference in their community through volunteerism.
"I want to see every young person turning the world around, and I am dedicated to making this happen," Tara wrote in her essay. "We have the power to do anything, and I envision a global culture of youth collaborating to make a difference."
"Volunteering provides you with an indescribably powerful sense of fulfillment, especially when you see the impact you are making," she said.
"Shocked by the poverty and sexism I encountered in India when I was 13, I founded Helping Orphans Pursue Education to provide all children with the opportunity to reach their potential. HOPE has improved access to basic necessities, especially education, in orphanages in India and Sudan where most of the children were abandoned as infants. In India, HOPE financed the construction of a dormitory, drastically improving the children's lives; previously, the children had a flimsy shelter that would often be destroyed by storms," she added.
The foundation, an agency of Taco Bell restaurants, established the awards programme in partnership with ThinkMTV, music channel MTV's Emmy-winning initative, to recognise and inspire teens to reach their full potential, to graduate from high school and become productive, educated and caring adults.
"We know that teens who volunteer are more likely to do better in school, and in life," said Bob Fulmer, executive director, Taco Bell Foundation for Teens. "Through this programme we can shine the spotlight on those who are making a difference, encourage more teens to do the same, and continue to provide grants to fund community, career and education programmes specifically designed for teens."
"Through a constant dialogue with our audience, we know that today's generation of young people are invested in their future and are taking action to improve their own lives and their communities," said Ian Rowe, senior vice president of Strategic Partnerships and Public Affairs for MTV.
Besides Tara who won the grand prize, four finalists were awarded grants of $10,000 for their designated charities, and 34 runner-ups were given a $5,000 grant for each of their eligible charities of choice.
TBFT has thus far donated more than $20 million to support teen programmes at Boys & Girls Clubs of America since 1995, with help from donations from customers, franchisees and employees.
Besides in India and Sudan, HOPE works to increase access to basic necessities at orphanages in Guatemala also, Tara said.
Programmes like Turn-Your-World, HOPE, and Connect a Kid have raised nearly $40,000, and engaged hundreds in eradicating poverty, protecting the environment, increasing access to education and healthcare, promoting peace, and more, she said.
She serves on Youth Service America's National Youth Council, as well as on its board of directors. She is also a member of State Farm's Youth Advisory Board, which works to implement a $5 million grant.
Tara is editor-in-chief of her school newspaper, and is involved in various musical groups. In her spare time, she enjoys speaking, writing, travelling, baking, and singing.