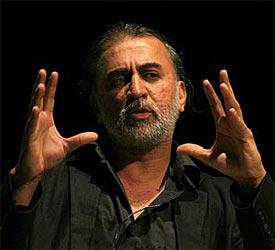 Tehelka founder editor Tarun Tejpal was on Monday charged by the Goa Police with rape, sexual harassment and outraging modesty of a woman journalist in a lift of a five-star hotel in Panaji in November last year.
If proven guilty, Tejpal can be sentenced for more than seven years of imprisonment on these charges.
Investigating officer Sunita Sawant has charged Tejpal under sections 354, 354-A (sexual harassment), 341 and 342 (wrongful restrain), 376 (rape), 376(2)(f) and 376 (2)(k) (takes advantage of his official position and commits rape on a woman in his custody).
The 2,684-page charge sheet filed before Chief Judicial Magistrate Anuja Prabhudesai has examined 152 witnesses including the victim, staff of Tehelka magazine and the investigating officer in the case.

The charge sheet mentions that there are enough statements on record to prove that Tejpal has admitted the commission of rape, sexual harassment and outraging the modesty of the victim.
The investigating officer has noted that there are incriminating emails in this regard containing his apology, email letters to the victim regarding rape, sexual harassment, and outraging her modesty which were retrieved at his instance.
As per the complaint, the victim was reportedly sexually assaulted by Tejpal on November 7 and the offence was repeated on November 8.
Goa Police has claimed in the charge sheet that there is sufficient evidence available in the form of documents and statements on record to show that Tejpal had been evading police after commission of crime.
Tejpal, 50, was arrested on November 30 last year and has since been lodged in Sada sub jail in Vasco town, about 40 kms from Panaji