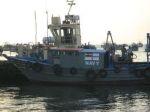 Sri Lankan Navy on Wednesday intercepted a boat carrying 97 Tamil-origin Lankans, including 40 children, believed to be on their way to Australia illegally.
Naval spokesman Commander Kosala Warnakulasuriya said that they were nabbed off the coast of Oluvil on the island nation's eastern coast this morning.
The group consisted of 39 men, 18 women and 40 children.
All of them are of Tamil origin.
The navy escorted them back to the Oluvil port, where they were handed over to the crime investigation department of the police for further investigations, the spokesman said.
The flow of illegal immigrants from Lanka continues despite the efforts by the Australian authorities to curb the risky journeys on board fishing trawlers.
The Australian authorities have been running an expensive media campaign in Lanka to educate people of the risks of such journeys in order to deter them from falling prey to illegal immigration rackets.
Australia says that it has returned 936 Sri Lankan asylum seekers between August 2012 and February 2013.