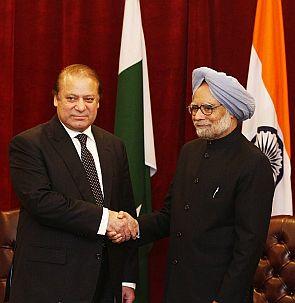 Prime Minister Nawaz Sharif on Saturday pitched for the resumption of India-Pakistan dialogue to settle all outstanding issues, including Kashmir, but acknowledged that a breakthrough was likely only after the Indian general elections next year.
Sharif said it was his Pakistan Muslim League's "principled stand" to seek better ties with India and the recent firing and tensions along the Line of Control were not in the interest of either side.
The two countries should sit across the table and solve all issues, including the Kashmir dispute, he said
Sharif made it clear that he was not expecting anything major to happen before the 2014 Lok Sabha polls.
"After the elections (in India), there should be a chance for both countries to sit down together and resolve disputes over the table," he said.
He described former prime minister Atal Bihari Vajpayee, with whom he held talks in 1999, as a "real statesman", and said the forthcoming dialogue should be held in the spirit of the past parleys.
"Vajpayee sahib was really a statesman. In 1999, he told me that all issues between the two countries, including Kashmir, should be solved within the year itself," he said.
"I want talks to be carried forward based on those lines. I am ready. I have said all this before the elections (in Pakistan)," he said
Sharif pointed out that there was no India-bashing in his party's campaign for Pakistan's general election in May, adding. "No word was spoken against India. But Pakistan-bashing is indeed happening in India (in the run-up to its general election)."
"I think both countries need to get out of this. We are already out. The foundation of this was laid by my party. In the 1997 elections, we maintained this," he said.
Recalling his recent meeting with Prime Minister Manmohan Singh in New York, Sharif said he was sure that things will change for good.
Image: Prime Minister Manmohan Singh with Pakistan Prime Minister Nawaz Sharif