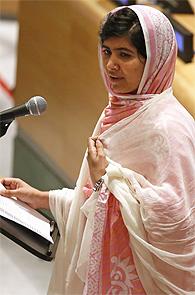 A former Pakistan Air Force member-turned Taliban commander has invoked Mahatma Gandhi, Jesus and Lord Buddha in a letter to teen activist Malala Yousufzai, asking her to return home and 'use' her pen for Islam.
Adnan Rasheed, who was sentenced to death for attempting to assassinate former president Pervez Musharraf in 2003, wrote the over 2,000-word letter to Malala, days after she said the Taliban attack had not diminished her determination to speak up for the right to education of every child.
"I wish the compassion you learnt from Prophet Muhammad is learnt by the Pakistan Army so they could stop shedding Muslim blood. I wish the compassion you learnt from Prophet Jesus should be learnt by the US and NATO. I wish the same for the followers of Buddha and I wish the same for Indian Army to follow Gandhiji," Rasheed wrote.
Malala was returning home from school in Pakistan's north-western Swat district on October 9 last year when gunmen stopped her bus and shot her in the head and the chest.
Surgeons in Pakistan removed the bullet before she was air-lifted to the United Kingdom for life-saving treatment at Queen Elizabeth Hospital in Birmingham.
According to the text of letter available on Newsweek Pakistan website, Rasheed denied that Malala was shot for seeking education, telling her that she was attacked because "Taliban believe that you were intentionally writing against them and running a smear campaign to malign their efforts to establish Islamic system in Swat and your writings were provocative."
Image: Malala Yousufzai at the United Nations ' Photograph: Reuters