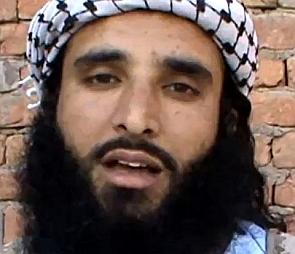 A key Pakistani Taliban commander involved in an assassination attempt on former military ruler Pervez Musharraf has been arrested in the troubled South Waziristan tribal region, sources said on Wednesday.
Adnan Rashid was nabbed from South Waziristan in injured condition after he escaped from a cordoned-off area of North Waziristan where an all-out military operation against local and foreign militants is underway.
An intelligence official said Rashid was arrested from a house in Wana area on Friday and transported to an undisclosed location in a helicopter.
The tribal sources also confirmed the arrest but said that the militant was captured from Shakai valley area bordering Afghanistan.
The Tehreek-e-Taliban Pakistan has confirmed that Adnan Rashid was arrested, Geo television reported.
A tribal source from South Waziristan said Taliban militants on Tuesday distributed a pamphlet in the area and threatened to target rival commander Bhawal Khan for helping security forces in Rashid's arrest.
Rashid, a key rebel, was sentenced to death by a military court for attacking Musharraf in 2003 and was lodged in Bannu district jail near North Waziristan.
He escaped with about 400 militants when rebels stormed the jail in 2012 to release him.
Rashid also made headline when he wrote a letter to teenage activist Malala Yousafzai after she was shot by the militants. He justified the attack but wished it should not have happened.
He was a junior technician of the Pakistan Air Force which he joined in 1997 and was first arrested in 2004 for attacking Musharraf. He planned the Dera Ismail Khan jailbreak in 2013 which resulted in release of about 250 militants.
Image: Pakistani Taliban commander Adnan Rashid