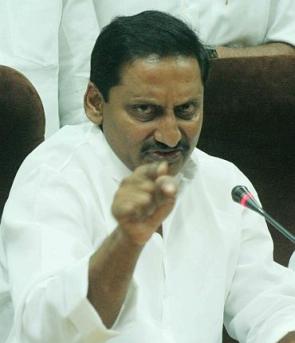 Andhra Pradesh Chief Minister Kiran Kumar Reddy on Thursday chose to invoke his cricketing past while describing the impasse over the Telangana Bill, claiming that there will be no final decision on the matter till the "last ball is bowled."

When asked to comment about the future course of action, Reddy told media persons: "Let us wait and see. We are hopeful that the Bill shall not be passed. There is time till February 21 before anything could happen. After seeing the people's pain, we are hopeful that the Bill will not be passed."

"I am going to hold discussions with my party leaders and workers from Seema-Andhra. Only then our next course of action will be decided."

"The pain of the people of Seema-Andhra was what was reflected today and it has yet again been proven that it is not right to divide the state on the verdict of a minority."

"The Congress has erred on this decision and despite telling both (party president) Sonia Gandhi and Prime Minister Manmohan Singh about the reality, they have not understood the situation. If they think that they will gain electorally then they are mistaken."

"It is nothing but a death blow to the Congress in Andhra Pradesh and the effects of bifurcation will remain for a long time, thus affecting the party a great deal."

On the issue of him floating a party, he said nothing had been decided as yet.

"The intention is to prevent the Bill and that is what we are going to do. Until the last ball is bowled, nothing can be said," he said.