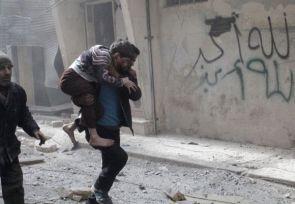 Russian President Vladimir Putin on Wednesday warned America and its allies against one-sided intervention in Syria, even as US said it not only risks losing friends but also credibility at the world stage if no military action is taken against the Bashar al-Assad regime.
Putin said any military strikes without UN approval would be "an aggression", as he called for evidence on chemical weapons attack to be presented to the Security Council.
He, however, softened his tone ahead of the G20 summit in Russia, saying he has not ruled out supporting a UN Security Council resolution authorising force, if it was proved "beyond doubt" that the Syrian government used chemical weapons.
In a wide-ranging interview with Russia's state Channel 1 television, Putin said it was "ludicrous" that the Assad regime, an ally of Russia, would use chemical weapons at a time when it was gaining ground against the rebels.
"If there is evidence that chemical weapons were used, and by the regular army... then this evidence must be presented to the UN Security Council. And it must be convincing," Putin, gearing up to host world leaders, including US president Barack Obama, at the G20 summit, said.
But he added that Russia would "be ready to act in the most decisive and serious way" if there was clear proof of what weapons were used and who used them.
Meanwhile, US Congressional aides have said the Syria war resolution drafted by members of the powerful Senate Foreign Relations Committee permits up to 60 days of military action against the Assad regime and does not permit any boots on the ground.
However, the text of the draft resolution was not officially released.
The US has alleged that the nerve agent sarin was used by the Assad regime on August 21 and that at least 1,429 people were killed, including over 400 children.
The US has said it not only risks losing its international allies and friends, but also its credibility at the world stage if no military action is taken against the Assad regime for alleged use of chemical weapons.
"If we fail to act, we're going to have fewer allies. We are going to have fewer people that count on us, certainly in the region," Secretary of State John Kerry told the US Senate.
Kerry said that the credibility of US is at stake.
"It's fair to say that our interests would be seriously set back in many respects if we are viewed as not capable, or willing to follow through on the things that we say matter to us," the Secretary of State said.
Describing the use of chemical weapons a violation of the world's "red line", Kerry said that no action by the US would set a dangerous precedent.
"We would be opening Pandora's box with respect to a whole set of dangerous consequences as a result of the United States not keeping its word. And it would make our life very, very difficult with respect to North Korea and Iran," he said.
Ahead of US Congress' debate on whether to authorise President Obama to take military action against the Assad regime, a key Senate committee is expected to vote on the resolution.
Senate Foreign Relations Committee Chairman Senator Robert Menendez said that the draft resolution has been closed and the members are expected to vote on it later.
The resolution is under consideration after last week Obama stepped back from a strike on Syria to first seek approval from Congress, which returns from recess next week.
Given the strength of the Democratic Party, the resolution is expected to sail through easily from the Senate Foreign Relations Committee with even key opposition Senators like John McCain announcing his support for it.
Even as Russia and China oppose unilateral action outside UN's mandate, France has stood beside the US, calling for strong action against Syria.
France has vowed to "punish" Assad for the alleged attack and this week released an intelligence report that blamed for the assault on the Syrian leader's regime.
French officials today said a punitive military response would help shift the balance in the two and a half-year-old civil war in Syria.
"If you want a political solution you have to move the situation. If there's no sanction, Bashar Assad will say 'that's fine, I'll continue what I'm doing,'" France's foreign minister, Laurent Fabius, told France Info radio.
Syria's parliament speaker, in a letter to French lawmakers, urged them not to support military action.
"We ask you not to hasten to commit a heinous, senseless crime, as you must steer the French republic away from the war path and towards diplomacy," Jihad Lahham said in a statement published by the SANA official news agency.