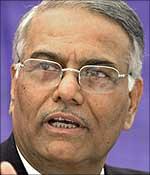 In the wake of the brutal killing of two Indian soldiers on the Line of Control, Bharatiya Janata Party leader Yashwant Sinha today advocated suspension of dialogue with Pakistan even as he admitted that the previous National Democratic Alliance government had also committed the mistake by engaging the neighbour in talks.
Sinha, who was the external affairs minister in the NDA government, said that Pakistan could not be trusted even on agreements it signs with India and should be treated as an 'enemy' for breaching accords.
"We should tell Pakistan that we will not talk until you implement the agreements signed so far, but, at the same time, we will not severe the diplomatic ties," Sinha told mediapersons in New Delhi.
"Every government thinks that it can talk sweetly with Pakistan but forgets that it is being controlled by its military, which wants to maintain its enmity with us," he said, adding, "May be we also committed the same mistake".
"We should tell them that if you don't implement this (agreement), then we will understand that you are an enemy and India should deal with its enemies accordingly," he said, preferring a 'tit for tat' response.
He also alleged that Pakistan has not fulfilled the terms of any peace agreement with India so far. "During discussions with Pakistan, we should always keep one basic principle in mind that it has never implemented the agreements. It accepts the agreements but never implements them. Even today if any agreement takes place with Pakistan, you can assume that it will not be followed," Sinha said.
He referred to the January 2004 agreement with Pakistan when then Prime Minister Atal Behari Vajpayee had visited Islamabad.
"Then Pakistan had agreed that it will not allow its land or land within its control to be used for promoting violence against India. But this too was not implemented and 26/11 (Mumbai attack) took place," Sinha said.
"Every time Pakistan asks us to forget the past, but should we forget the Mumbai attack or this beheading," he said.
Asked whether bilateral talks should be stopped, he said, "Of course. There is no benefit. Giving Most Favoured Nation status to any country is a very small thing in the international business. We have given MFN status to Pakistan but they have not done it so far."