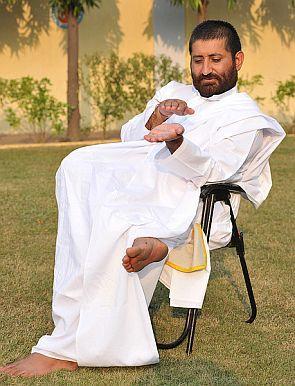 Self-styled godman Asaram's son Narayan Sai was on Thursday remanded in 14-day judicial custody by a Surat court in a rape case filed against him by one of the two city-based sisters.
Chief Judicial Magistrate Jatin Thakkar sent Sai to judicial custody till January 2 after his remand, which was granted on Wednesday, ended this afternoon.
Police had yesterday sought Sai's custody to question him about 21 SIM cards recovered during the course of the probe.
The police also wanted to find out the source of Rs 5 crore recovered from Sai's aides.
The police had detained six persons, including a police sub-inspector, in connection with an alleged conspiracy to bribe cops, doctors and judicial officers to weaken the case against Sai.
Sai and two of his aides were arrested by the Delhi Police on December 4 from the Delhi-Haryana border. His two aides have already been remanded in judicial custody.
Two Surat-based sisters had accused Sai and his father Asaram of rape. The elder sister had levelled allegations against Asaram, while the younger sister had charged Narayan Sai of sexually assaulting her.
Asaram (72) is currently in a Jodhpur jail after being arrested in September for alleged sexual assault of a minor girl at his ashram there.
Image: Narayan Sai