Most of the advertisements are crass and below the belt that many have been put off by it, writes Bikash Mohapatra.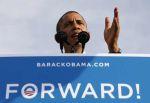 Blame it on the super PACS.
The 2012 United States presidential campaign has witnessed a bombardment of advertisements on prime time television thanks to these committees -- meant to raise and spend funds on behalf of the candidates -- who have spared no effort (and income) in buying screen space and attacking the opposition.
Have the advertisements had the desired impact?
Well, not exactly.
In fact most of them are crass and so much below the belt that many have been put off by it.
"The negativity of this presidential campaign has been largest in history thanks to the super Pacs," avers Justin Day, director of the advocacy group. Media professional and political expert Peter Kroos affirms.
"It is impossible to watch most of these ads. They are so very below the belt and not exactly in sync with a civil society," he says. While the candidates have been dominating the TV screens, the social media has taken a beating.
It is imperative here to mention that during his presidential campaign in 2008, Obama used social media to effect. The same platform has had a significant impact globally in the last decade or so, the Twitter Revolution in Moldova and the Arab Spring being cases that serve as the best examples.  
However, when it comes to the ongoing campaign social media has been restricted, albeit not entirely dumped, as a platform. If experts are to be believed, complacency is the major reason behind the same.
"Neither party has done a good job with the social media this time. They have in fact taken things for granted," reasons political analyst Susan MacManus, before proceeding to elaborate regarding why it's been consigned to the back burner.
"Social media isn't turning out to be an important factor in luring young voters as it was perceived to be. And that is primarily because of two reasons," she continues, adding, "Youngsters these days think of social media as a private medium and such value their privacy. 
"Secondly, the medium is now being perceived more as an entertainment option vis-à-vis serious issue like the election. And the alternative media, like blogs, in any case have an indirect effect," she says. 
Though television has trumped the cyber space when it comes to the influx of advertisements, the subconscious impact the latter has on a voter's psyche is clearly amiss.
"The SuperPACS has ensured a lot of negativity in the swing states. There has been an over- saturation of these ads on television," explains MacManus, adding, "The negative side of this is you can't reach to the young (and undecided) voters though these means.
"A last minute physical appearance might just do the trick. But that is not happening either," says MacManus.