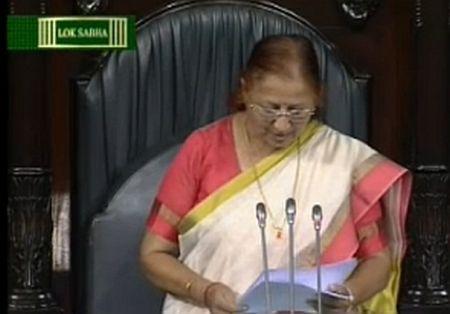 Eight-term member Sumitra Mahajan was on Friday unanimously elected Speaker of the 16th Lok Sabha, becoming the second woman presiding officer of the Lower House after her predecessor Meira Kumar.
Mahajan, 71, the longest-serving woman member of Parliament, was elected after a motion moved by Prime Minister Narendra Modi and seconded by Bharatiya Janata Party veteran L K Advani was adopted by voice vote called by Protem Speaker Kamal Nath.
Thirteen similar motions proposed and seconded by several parties in the ruling National Democratic Alliance as also in the opposition supporting Mahajan were also approved by the House.
Mahajan was led to the Speaker's Chair by the Prime Minister, Advani, Anant Geete, M Thambidurai as also a number of opposition leaders including Mallikarjun Kharge, Mulayam Singh Yadav and Sudip Bandyopadhyay, besides Parliamentary Affairs Minister M Venkaiah Naidu.